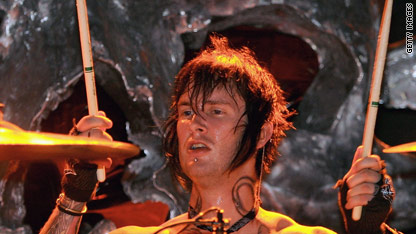 testing captions
James Sullivan, the drummer for the Huntington Beach rock band Avenged Sevenfold, died on Monday, according to Orange County authorities.
The cause of death is still under investigation. Sullivan, 28, was found unresponsive inside his home.
"It is with great sadness and heavy hearts that we tell you of the passing today of Jimmy 'The Rev' Sullivan," band members posted in a statement on the group's official Web site. "Jimmy was not only one of the world's best drummers, but more importantly he was our best friend and brother. Our thoughts and prayers go out to Jimmy's family and we hope that you will respect their privacy during this difficult time."
News of Sullivan's death prompted an outpouring of grief on social media sites as well as on the band's official Web site.
"I cant believe it..The Rev is gone..R.I.P. Jimmy Sullivan..im crying so hard right now. I think Im in complete shock," a fan with the handle Star888Star posted on Twitter this morning.
The group, which blended hard rock with hard-core punk, was named Best New Artist at the MTV Video Music Awards in 2006.