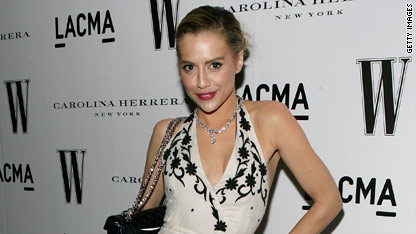 testing captions
Before her tragic death earlier this week, actress Brittany Murphy had a busy year working on multiple projects, according to the Internet Movie Database and media reports.
The 32-year-old actress had recently wrapped the filming on two dark indie thrillers and was preparing to start work on a romantic comedy next month.
Last spring, Murphy worked on the mystery thriller "Something Wicked," in which she portrayed a psychiatrist counseling a young couple about their deep dark secrets leading up to their wedding.
In one chilling scene from the movie the other female lead, played by Shantel VanSanten, tells Murphy's character that she is looking forward to having a family and kids and growing old with her future husband. Murphy responds, "That's my dream too. It might never happen."
Murphy spent last June shooting "Abandoned," co-starring Dean Cain, Mimi Rogers, Peter Bogdanovich and designer Tara Subkoff. She starred as a woman who embarks on a search for her boyfriend who goes missing from a hospital during a routine treatment.
In January, Murphy was expected to begin shooting the romantic comedy "Shrinking Charlotte," with Kathleen Turner, Fred Willard, Matthew Lillard and Sam Trammell. Director Rene Eram has said he hopes to recast Murphy's role.