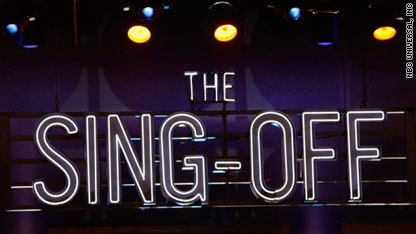 testing captions
"Glee" it was not, but NBC's a cappella sing-fest "Sing Off" did manage to provide some much needed musical therapy in its two-hour finale Monday night.
Puerto Rican underdogs Nota's win - over the plucky Beezlebubs and the Voices of Lee - was nearly overshadowed by the celebrity guest performances that included Smokey Robinson, Boyz II Men (including judge Shawn Stockman), Bobby McFerrin, judge Nicole Scherzinger of the Pussycat Dolls, Natasha Bedingfield, and judge Ben Folds (of Ben Folds Five and solo fame).
Of particular note was the Boyz II Men medley, which for anyone who rocked out to "Motownphilly" while wearing some colorful jams in junior high was a delightful romp through the band's old hits, including "It's So Hard to Say Goodbye to Yesterday" and "End of the Road."
Nota was clearly a fan favorite during the competition. Their stylized beats and well-conceived adaptations of old-school and contemporary songs proved they deserved the win. The six-man group took home a $100,000 cash prize and a Sony recording contract.
Breaking into the mainstream as an a capella group isn't easy, but with this kind of exposure who knows how far these boys from Puerto Rico can go. The group's beat-boxin'  version of the Jay Sean hit "Down" has already been viewed nearly half a million times on YouTube as of Tuesday morning.