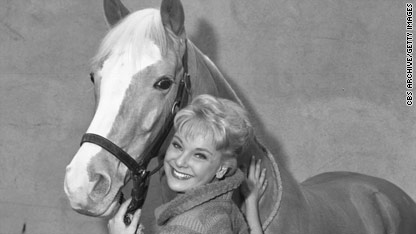 testing captions
Actress Connie Hines, who played Wilbur's wife on the hit 1960s sitcom "Mister Ed," died on Friday at age 78 from complications stemming from heart problems, her former co-star Alan Young confirmed to the Los Angeles Times.
Hines was best known for portraying Carol Post on the CBS show about a talking horse from 1961 to 1966. Hines starred in 144 episodes of "Mister Ed" as the dutiful wife of an architect, played by Young, who spent most of his time in the barn, talking to the deep-voiced horse.
"She was a girl married to a fellow listening to a horse. Her biggest line was 'lunch is ready,' " Young said. "The rest of it was reacting to it. Connie never complained. How many actors would react that way?"
Born in Massachusetts, Hines also appeared in the 1960 film "Thunder in Carolina" and such television shows as "Bonanza," "Perry Mason" and "The Mod Squad."