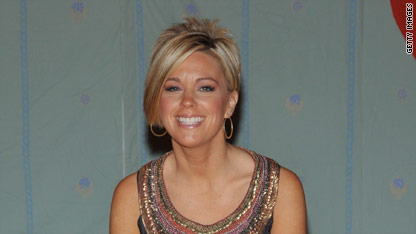 testing captions
So what's next for the reality TV queen Kate Gosselin? Another reality show, of course!
The newly divorced mom of eight told talk-show host Jay Leno on Friday night that she would be interested shake her groove thing as a contestant on ABC's hit dance competition show, "Dancing With The Stars."
Kate Gosselin told Leno via satellite, "Yes, 'Dancing with the Stars' because I cannot dance. I want to laugh at myself. I so cannot dance. It would be a sad sight."
Kate Gosselin and her husband Jon Gosselin were officially divorced only hours before the Leno show aired on Friday.
When Jay asked her how she was enjoying the swinging single life, Kate just laughed.
"I'm a wild woman, Jay. I'm baking cookies with the kids," Gosselin said.
The Gosselin twin girls and sextuplets have been through a lot this year with their parents' divorce and the cancellation of their beloved star-making machine, "Jon & Kate Plus 8." Do they really need to see their mom learn to samba?