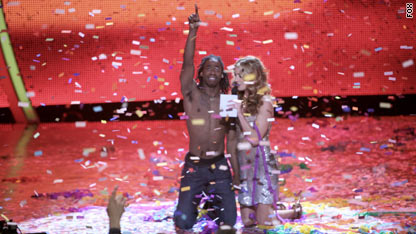 Russell Ferguson wins So You Think You Can Dance
Well, never again doubt for a minute that these results shows are (mostly) live. Things were going very smoothly on Wednesday night's season finale of "So You Think You Can Dance," until it became time to start announcing the final results.
First, host Cat Deeley's microphone went out. The top six took a while getting onstage and it was soon revealed that Russell Ferguson, the krumper from Boston, Massachusetts, had been injured backstage, and unfortunately, that forced the rest of the routines involving him to be shown on tape. As great as it always is to re-live some of these great performances that took something away from it.
As for the results themselves, they went pretty much as I predicted right up until the final three. Once Ryan, Ashleigh and Ellenore were eliminated, in that order. I thought it would be Kathryn and Russell standing at the end going for the title of America's favorite dancer, but then Cat announced that Kathryn was out of the running. So it was down to Russell and Jakob.
At that moment, I wondered if we might see a first: the most straight-up talented dancer might win over the one with the most personality or would the two contemporary dancers cancel each other out in the votes?
At the end of the day, Russell's fanbase, which had been strong from the beginning, came through and for the first time, a krumper won it all.
One can't deny that Russell's ecstatic reaction, crumbling to the ground, then ignoring his injury by standing up and tearing off his shirt, was one of the most memorable moments we've seen on the show. I especially liked that he called his top 20 best friend, Kevin, up on stage with him. There's no doubt that he was truly surprised and over the moon to win this prize.
As for the encore performances picked by the judges (with special guests Lil' C, Tyce Diorio and Debbie Allen), I have no qualms with the ones they picked, though there was an over-reliance on routines from the first noncompetitive performance show.
I would have loved to see Kathryn and Legacy, Ellenore and Ryan, or Ashleigh and Jakob dance again. The two original routines, choreographed by Kelly Abbey (bring her back, please!) and Ashleigh and Ryan were extraordinary. Good for judge Mary Murphy to request that the married couple dance together in their own style.
There were five special performances as well, including a subdued Adam Lambert, a Mary J. Blige performance that absolutely killed, Leona Lewis singing the sleep-inducing "Avatar" theme, and the phenomenal dance crew the Groovaloos.
And then there was J. Lo. Yes, Jennifer Lopez began her performance on a giant shoe, apparently lip-synching a spoken phone conversation, leading into a song that was an ode to Louboutins. The one thing that saved it was the fact that she employed some very familiar faces such as Kayla and Courtney as backup dancers.
Overall, looking back on this season, I'll remember Travis Wall's "War of the Roses" routine with Ellenore and Legacy, Kathryn and Jakob's contemporary routine, and the absolute brilliance of Sonya Tayeh, especially her routine with Ellenore and Jakob.
Which routines will you remember best from season six, and what did you think of the season as a whole? Did Russell deserve to win? Post your response on video, or in the comments below. In the meantime, happy holidays and see you next season.