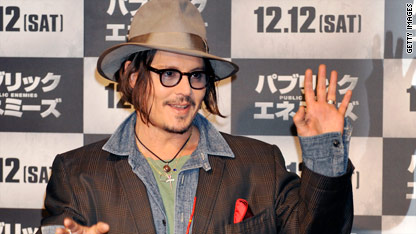 testing captions
Filling in for the late actor Heath Ledger in Terry Gilliam's "The Imaginarium of Dr. Parnassus," was an unbelievably sad privilege says Johnny Depp, who was called in to supplement Ledger's role in the half finishing film alongside actors Colin Farrell and Jude Law.
Ledger's tragic death in 2008 left the film without a leading man. The Hollywood heavy-hitters stepped in to each play an incarnation of Ledger's character, a mysterious loner who helps Dr. Parnassus, played by Christopher Plummer save his daughter's soul from the devil.
"Though the circumstances of my involvement are extremely heartrending and unbelievably sad, I feel privileged to have been asked aboard to stand in on behalf of dear Heath," Depp said in a statement to Moviefone.
"He was the only player out there breathing heavy down the back of every established actor's neck with a thundering and ungovernable talent that came up on you quick, hissing rather mischievously with that cheeky grin, 'Hey ... get on out of my way boys, I'm coming through!' And does he ever!!!"
Gilliam's film opens in New York and Los Angeles on Christmas Day and in the rest of the country on Jan. 8.