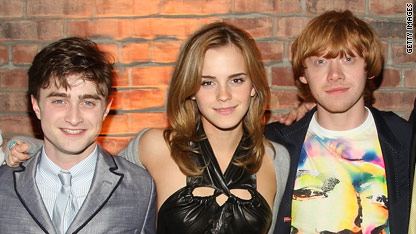 testing captions
Elder stateswomen of the silver screen take note: the box office darling of the past decade isn't Julia Roberts, Reese Witherspoon or Cameron Diaz. It is 19-year old Emma Watson.
Watson's run as Hermione Granger in the blockbuster "Harry Potter" saga has made her the highest grossing actress of the past ten years, according to the Guinness Book of World Records.
Watson beat out 24-year old Keira Knightley for the top spot. Knightly has starred in 15 movies including three of the "Pirates Of The Caribbean" films, which have brought in box office receipts of $3.42 billion over the past ten years.
The wizarding franchise and Watson's role in the animated "The Tale Of Despereaux" have taken $5.4 billion in sales worldwide. The success of the animated "Despereaux" pushed the young actress' box office receipts beyond those of her male co-stars in the Potter series, Daniel Radcliffe and Rupert Grint.
Watson was cast as Hermione when she was 9-years old, having only previously acted in school plays. She is currently a student at Brown University in Rhode Island studying art and literature. She will next appear in "Harry Potter and the Deathly Hallows", parts 1 and 2 in 2010 and 2011.