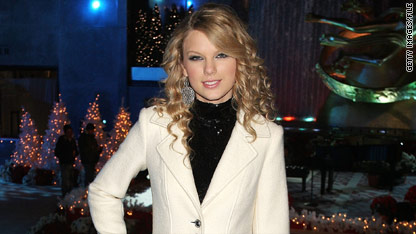 testing captions
Taylor Lautner might want to watch out because someone wants his girl for Christmas.
Evan Taubenfeld, a singer-songwriter and former member of Avril Lavigne's band, has penned a cute little ditty wishing for a gift of Taylor Swift this holiday season.
The song, "Merry Swiftmas (Even Though I Celebrate Chanukah)," has become a hit in the Twitterverse and online.
"I want a good girl for hugging and kissing and not a head case who only dates jerks," Taubenfeld sings. "I don't need more toys and shiny things. I just want a blonde who likes to sing."
The whimsical performer proceeds to list other celeb hotties he'd pass up including Megan Fox, Amy Smart, Lindsay Lohan, Penelope Cruz and Angelina Jolie if only "Santa, for my gift, please send me Taylor Swift."
And of course, no Taylor Swift mention would be complete without also referencing rapper Kanye West. Taubenfeld croons "No one will mess with her when she's mine. And Kanye will watch his mouth next time!"
Swift was reportedly charmed by the song. The music video ends with her appearing on Taubenfeld's door step on Christmas morning.
Taubenfeld told MTV the object of his affection was as sweet and as charming as he had imagined.
"I'd say even more so," Taubenfeld said. "She's a genuine person. I'm not sure that Lautner was too stoked about it."