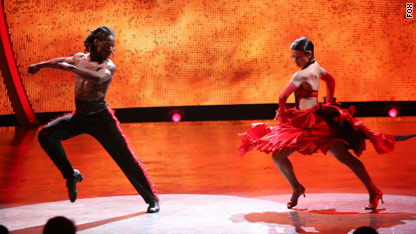 So You Think You Can Dance
Well, here we are, the final performance show on "So You Think You Can Dance." And with a Gordon Ramsay special breathing down the show's neck, there was no time to waste.
In what was a very rushed hour, the final six (that's right, six) danced their hearts out to go for the title of "America's Favorite Dancer"... and when the dust settled, three of them looked like bona fide contenders. Let's go down the list one by one.
Kathryn McCormick (Odds of winning - 2:1)
Judge Adam Shankman's comparisons to last season's winner, Jeanine weren't far off (just a tad early last week). Talk about a late surge ... Kathryn didn't hit a wrong step all night. She had a scorching samba with Ryan, kept up with Russell, and then some, in hip-hop, and her contemporary routine with Jakob will go down as one of the most memorable in series history.
Adam seems to be pulling for her, while Nigel Lythgoe and Mary have given her high praise. The one thing Jeanine did that Kathryn didn't was the chance to do one last solo, and that proved to be a deciding factor.
Ryan Di Lello (Odds of winning - 6:1)
A great partner, no doubt, and he had a touching moment in a Travis Wall routine with his wife, Ashleigh, not to mention that samba, but he's been overshadowed for several weeks now (including by eliminated B-boy Legacy), and that emotionless jazz routine with Ellenore didn't do anyone any favors.
Jakob Karr (Odds of winning - 3:1)
Is he one of the best dancers this show has seen? Without a doubt. Did his contemporary routine with Kathryn have the crowd on their feet, Adam close to tears, and Nigel urging him to join a dance company? Absolutely. Did he knock it out of the park in his Broadway routine with Ellenore? I think you see where I'm going here.
As I said last season with Brandon, he's in the also-ran position as a very talented dancer but missing that something special that connects with the audience (see also: Danny and Travis).
And no matter how well one dances the fox trot, and he nailed it, it usually doesn't translate to votes. At the same time, I would not be at all surprised if he still ended up winning.
Ellenore Scott (Odds of winning - 4:1)
Here again, one of the most talented dancers the show has seen, but she seems destined for top six, like Mark in the fourth season. Luckily for her, she had a chance to show off her knack for quirkiness in that Fosse-esque Broadway number and robotic jazz routine.
She really, finally broke out, however in the paso doble with Russell. The paso dobles lately have been really good, though I would place this just below Legacy and Kathryn, and Brandon and Jeanine. But unfortunately, I don't think that will be enough.
Ashleigh Di Lello (Odds of winning - 5:1)
One should almost ignore those odds, because she has beaten the odds from almost the start. She was constantly in her husband's shadow during auditions and in Las Vegas. She only got into the top 20 because someone bowed out. She was never outdanced by Jakob, when that could have easily happened many times.
She was injured and forced off the stage, but got voted into the finale, anyway. So how did she did on the final night of competition?
She really had a chance to show off her gracefulness in all three routines: That beautiful moment dancing contemporary with her husband, an elegant fox trot where she actually outshined Jakob, and a lyrical jazz number with Russell which brought Mary to tears. Even so, one example of why she won't win is because Mary's tears were for Russell.
Russell Ferguson (Odds of winning - 3:2)
From the moment we first saw him this season, it was clear he was a star. The judges were absolutely blown away by the amount of growth he had this season. All three of his routines were quite memorable, including the aforementioned paso doble with Ellenore and his hip-hop with Kathryn, which could be crucial because it was last.
Even so, it's hard not to wonder if he or Jakob may have peaked too early.
So I'm really going out on a limb here. For much of this season, and at the very beginning of Tuesday night's show, I thought that Jakob would be in the final two.
Now, I'm not so sure it won't be Kathryn and Russell, with Russell coming out on top. After the year we've seen on shows like this (i.e. Kris Allen, Jeanine), anything is possible.
One thing's for sure: we want to hear from you! Who do you want to be crowned "America's Favorite Dancer?" Do you agree that Russell has the edge? Hoping for one of the other five to pull it off? And can you believe that they're already heading out to audition again in January (quite the nonstop schedule they have on this show)? Post a video with your pick, or in the comments below.