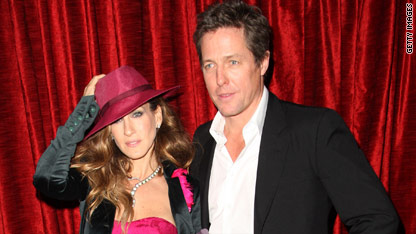 testing captions
Most folks lose their phones or send unfortunate text messages when they're drunk. Hugh Grant  made a profit of $18 million.
The star of "Did You Hear About the Morgans?" was lauded as an art connoisseur in 2001 when he bought an Andy Warhol portrait of Elizabeth Taylor for $3 million. His timing was thought to be impeccable six years later when he sold it for $21 million in 2007.
But it was less of an eye for art and more of a love of drink that led to the sale. Grant recently admitted he had been on a two-day bender when he ordered an assistant to bid on the painting at a Sotheby's auction in New York.
Grant's faithful assistant indulged his boozy whim. "To my horror, she did, and even worse, got it," Grant recently admitted in an interview while doing press for his new romantic comedy with Sarah Jessica Parker.
"It all began with drink. I'd been having a drunken dinner with my father the night before, and I said, 'We ought to go see my brother Jamie. You know, the Concorde's amazing.' And he said, 'I hear it is.' So I bought him a Concorde ticket and we went. We had lunch, drank a lot of beer. And I was thinking about some stuff in the Sotheby's auction and I saw the Liz Taylor."
Grant also said that even though the sale of the painting bolstered his bank account, he wished he had hung onto it. "I slightly regret selling it now, even though it made me rich," the actor said in an interview posted on the UK's Daily Mail website.
The pop art painting was one of several portraits Warhol created at the height of his fame and creative output in the 1960s.