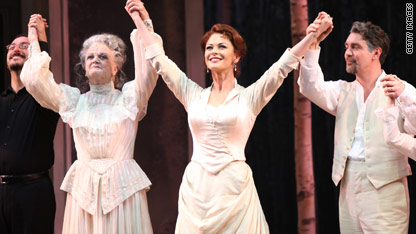 testing captions
Catherine Zeta-Jones made her Broadway debut in "A Little Night Music" at the Walter Kerr theater Sunday night.
While reviews of the actresses performance have been mixed, the one thing most reviewers (particularly those with a Y chromosome) seem to agree on is that she looked positively gorgeous onstage and off.
The Academy Award winner took on the role of aging actress and habitual maneater Desiree Armfeldt, in the Stephen Sondheim revival, opposite veteran stage actress Angela Lansbury (who has been awarded raves as per usual).
In the New York Times, critic Ben Brantley praised Zeta-Jones' "lively Broadway debut" and said: "In addition to being drop-dead gorgeous in David Farley's wasp-waisted period dresses, Ms Zeta Jones brings a decent voice, a supple dancer's body and a vulpine self-possession to her first appearance on Broadway."
Variety's David Rooney praised the "luminous" Zeta-Jones, calling her "bewitching, confident and utterly natural."
Emma Brockes of The Guardian was less bewitched by the actress' beauty and more critical of her technique. "While Catherine Zeta-Jones can act and sing, she can't do both at once in this production – at least not in one take," Brockes wrote in the London newspaper.
"When Zeta-Jones steps on stage the anxiety of the audience is palpable. You feel bad for her. At the opening bars of 'Send in the Clowns', she gets a look on her face like something terrible is about to happen, which it is."
Peter Marks of the Washington Post concurred, saying: "Catherine Zeta-Jones is not ideally cast as regretful, wistful Desiree in Trevor Nunn's virtually never-right revival of the suavely farcical 'A Little Night Music.'"
The 40-year-old actress and mother of two children with husband Michael Douglas, began her career onstage in London's West End, but has been more popular in television and movie roles for nearly two decades.
Despite the mixed reviews, fans of the actress are flocking to the theater. In a time when Broadway sales are struggling, tickets for "A Little Night Music," are being offered for nearly $300 on eBay.