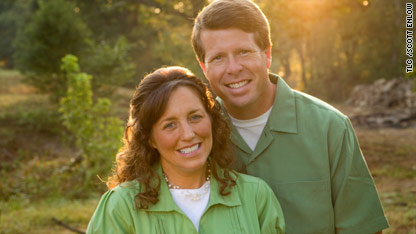 testing captions
The Duggar family got an early Christmas present on Thursday when they welcomed their 19th child at the University of Arkansas for Medical Science.
Michelle and Jim Bob Duggar, the stars of the TLC reality show "18 Kids and Counting," delivered their daughter Josie Brooklyn, weighing 1 lb., 6 oz., in an emergency C-section three months prior to her March due date.
Michelle Duggar was airlifted to the Arkansas hospital earlier this week with gallbladder issues.
"Michelle is resting comfortably and baby is stable and in the NICU for extended care. The most important thing right now is for Mom and baby Josie to get as much rest as possible.  The family is grateful for all the prayers and well wishes during their recovery," a statement on the TLC website said.
Michelle and Jim Bob Duggar released a video statement prior to the baby's birth thanking fans for their support.
"Thank you for all the well wishes we have been receiving," Michelle said in the video taped prior to the birth. "I am feeling much better. The gallstone has kind of calmed down a little bit, [my] blood pressure is still kind of getting regulated, and the baby sounds good."
The Duggars are the parents of 18 other children and the grandparents to one.