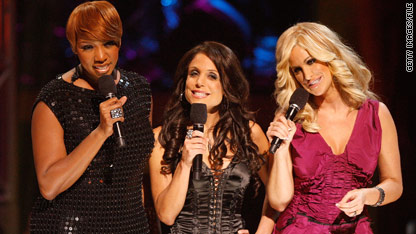 testing captions
Might the "Real Housewives of Atlanta" be losing two of its Georgia peaches?
The New York Daily News is reporting that best frenemies NeNe Leakes and Kim Zolciak may not be returning for the reality show's third season.
Sources are claiming the woman are demanding pay increases for their appearances on the top rated show and that producers are balking.
Both were the center of plenty of drama last season and have been fan favorites, but it's not as if Bravo hasn't recast its popular franchise before.
Just this season, the "Real Housewives of Orange County" bid farewell to original cast member Jeana Keough and over the years the show has seen other (often blonde) cast members come and go.
Would you want to watch the "Real Housewives of Atlanta" without the bombastic NeNe and the musically challenged Kim? And if they do leave, who do you think should take their place?