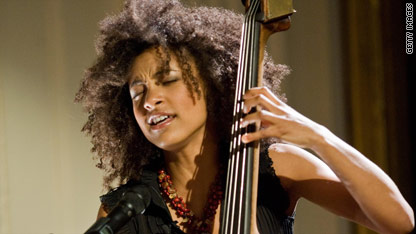 testing captions
Judging by some of the tweets fired off this morning, there were quite a few left clueless by President Obama's Nobel Peace Prize concert performance pick. The young woman grooving with the bass like only a prodigy could was none other than 25-year-old Esperanza Spalding. Never one to be boxed in by convention, Esperanza entertained guests with jazz instead of the usual classical.
"We have a new kind of laureate, we'll have a new kind of music," Nobel Committee Secretary Geir Lundestad said of the shake-up.
Esperanza, originally from Portland, Oregon, has appeared everywhere from jazz concerts to Letterman and Jimmy Kimmel Live in the past few years, but if you've somehow missed this multilingual, musical phenomenon, here are five things to know.
1. It's no surprise that Esperanza was hand-picked for Oslo by the President himself since she goes way back with the First couple - both of whom are said to be huge fans. In May of this year, the young musician was invited to the Obama's "Poetry, Music and Spoken Word" event and offered an impressive rendition of Lauryn Hill's "Tell Him" in the White House's East Room.
2. Her lifelong love of music was inspired by none other than classical cellist Yo Yo Ma, who appeared on an episode of "Mister Rogers' Neighborhood" when Esperanza was four. By the next year, she was playing the violin – yes, at the age of five she was rocking the strings – and would continue for the next ten years.
3. Home schooled as a child, Esperanza found school easy and boring. She stumbled upon bass when she was 15, fooling around in the music room when she was supposed to be in class. By 16, Esperanza had earned her GED and was in dogged pursuit of a musical passion that led her all the way to Berklee College of Music where she's now an instructor - the youngest the institution has ever had.
4. If you try and contain her sound to jazz musicians of the past, she just might give you the side eye. As she said in an interview with Afrobella, "Jazz is not gone. Mos Def is jazz; Aretha is jazz; Jill Scott is jazz. I see no point in reemphasizing a period of jazz from the 40s and 50s because it's evolved and permeated everything."
5. Leave Esperanza stranded in the soul section of a music store and make her pick up a few CDs for purchase in the span of mere minutes, she turns up with everything from Jimi Hendrix and the Beatles to Adele and M'Shell Ndegeocello, as she happily demonstrated for Amoeba.com.