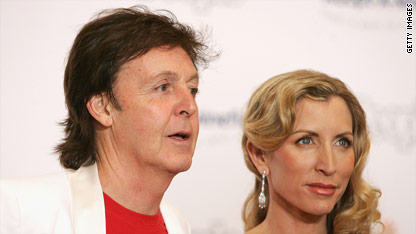 testing captions
Anyone who followed the nasty divorce between Paul McCartney and Heather Mills shouldn't be surprised that the former Beatle believes his last marriage to be one of his biggest mistakes of the past decade.
No one could look back on how the six-year union ended between the singer-songwriter and the former model last year, with tears, name-calling and a massive divorce settlement and think on it fondly.
But now for the first time, McCartney is telling Q magazine that it indeed was not the best of times. Asked whether the wedding was one of his worst decisions in the last decade, the music legend said it was a "prime contender".
Sir Paul told Q magazine: "OK, yeah, I suppose that has to be the prime contender – but I don't wanna down anyone, these things happen, y'know?"
But the one thing McCartney is grateful for out of his union with Heather Mills is his six-year old daughter Beatrice.
"I tend to look at the positive side, which is that I have another beautiful daughter out of it," McCartney told the magazine.
Another bright point for McCartney has been finding love again with American divorcee Nancy Shevell, which McCartney said was once of the nicest things about the past decade. He also dismissed reports that he was planning to retire, saying, "I have too much fun. Why would I retire? Sit at home and watch telly? No thanks. I'd rather be out playing."