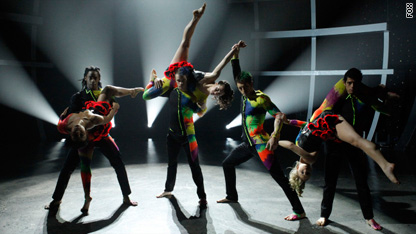 SYTYCD competitors group routine
It was a double shocker as spouses Ryan and Ashleigh Di Lello were sent through to next week's "So You Think You Can Dance" finale, while another possible contender got sent home.
After the Las Vegas callbacks, I thought that Ryan had a shot, though he has fallen down in my estimation, but I wouldn't have guessed in a million years that Ashleigh would make it this far - especially after having to sit out due to an injury the night before.
I breathed a sigh of relief when Kathryn, who was in danger last week, was safe this week, while Russell deserved to go through after such a strong Bollywood performance on Tuesday night. Jakob being safe was the safest bet of all (his former partner Ashleigh is the only other dancer not to be in danger this season).
Between Ellenore and Mollee (yes, I did a double take seeing that - Ashleigh wasn't even in the bottom two), I feared that Ellenore might go home early. Instead, it was the other way around as Ellenore was told she would be in the finale ... though she seemed a bit confused on that point for a moment. Poor Mollee didn't take it well, in tears for the rest of the night. Cat Deeley was there with a hug and comforting words - and that's why she's the best reality show host in the business.
When it came down to Ryan and Legacy, however, I immediately assumed that Ryan would be going home. Once again, I was dead wrong about the Di Lellos as Legacy's journey came to an end. I definitely felt like he was more deserving of being in the finale, but it looks like Ryan's smoking hot cha-cha with Kathryn made a big difference (and his plea with the audience to save Ashleigh didn't seem to hurt).
So, despite a strong performance by Legacy in the "War of the Roses" routine - and, for what it's worth, his solo Wednesday night - two lackluster hip-hop routines sealed his fate.
So, let's hear your thoughts on this next-to-last results show. Did Ashleigh go through because of Ryan's plea, or was it more of an anti-Mollee vote? Are you shocked to see Ryan in the finale as well? Who are you rooting for next week? Share your thoughts on video, or in the comments below.