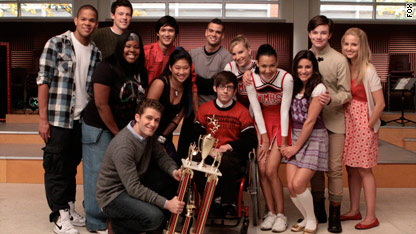 testing captions
Say what you want about "Glee," but the show knows what fans want.
In the season finale, we got some cheer-out-loud performances mixed in with a few it's-about-time moments.
Who could resist Mercedes (Amber Riley) belting out "And I'm Telling You" along with Rachel (Lea Michele) singing "Don't Rain on My Parade" like her life depended on it?
The trip to the sectionals came out exactly how I expected, with the kids of McKinley High triumphing, but their getting there was so enjoyable that I didn't mind the lack of a twist. I especially loved the peek inside the judges room and their decision-making process which was not only hilarious, but I suspect, also pretty spot on.
Watching Jane Lynch get her comeuppance as the deliciously evil cheerleading coach Sue Sylvester was not only satisfying for her banishment (have fun at your condo in Boca while you brown up Sue!), but also for her show down with teacher Will Schuester (Matthew Morrison.)
Lynch's character has some of the best lines on the show ("You are about to board the Sue Sylvester Express. Destination: Horror") I was reminded as to why I love to hate Sue so much.
Thank God the wrong baby daddy/fake pregnancy plot line was resolved. And who didn't want to see Will and Emma Pillsbury end up together? When he ran down the hall to stop her from leaving and finally kiss her I yelled "Yes!"
Some of my friends have been lamenting that the lack of any overt cliff hangers might portend that Glee is over, but with all of the buzz and the ton of cash the show is making via iTunes downloads I have no fear of that happening.
Rather, I believe the powers behind the show realize that with a long hiatus until Glee returns in April viewers needed something to tide them over and leave that warm and fuzzy feeling.
Now we can look forward to a possible appearance of Broadway star Idina Menzel who The Hollywood Reporter writes is in negotiations to guest star, the reported return on my personal favorite Kristin Chenoweth and the further machinations of Sue Sylvester.
Four months and counting….