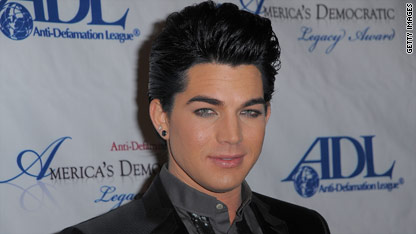 testing captions
In a pre-taped interview and performance, Adam Lambert finally made a return to ABC on "The View" Thursday morning, proving once again that his racy performance at the "American Music Awards" last month was a one-time deal and that he is able to act like a perfect gentleman on-camera and onstage.
Co-host Whoopi Goldberg took on the elephant in the room, that Lambert's interview and performance on the morning show had been pre-taped a couple of days earlier because of network concern over what could happen during a live taping. Lambert shocked ABC and America with his AMA performance where he kissed his male keyboardist on the mouth and simulated oral sex with a dancer. 
"ABC apparently was still concerned because of his musical performance at the American Music awards," Whoopi said. "I think ABC is keeping it a lot more alive than anyone else.
Lambert's appearance on "The View" came after the network cancelled his live performance on "Good Morning America," an appearance on the late night show, "Jimmy Kimmel Live," and a scheduled live appearance on New Years Eve.
The ladies focused mainly on whether or not Lambert's AMA performance had indeed been too racy for children to watch.
"It doesn't mean your kids are gonna go out on the street and start doing that to each other," Lambert said in reference to the moment when he simulated oral sex.
Co-host Joy Behar said she thought the general reaction to Lambert's performance was homophobic.
"Yeah. It's because I'm a dude and everybody is like 'OhMyGosh," Lambert said.
Joy added that Lambert still wasn't a nice simple Jewish boy, to which the singer laughed, "My dreidel spins the other way."
Lambert spun the dreidel perfectly straight during his performance of his single "What do You Want From Me." Clad in his signature all-black and a little less guy-liner than usual, Lambert sang the song chaster than a choir boy with minimal hip gyrations.