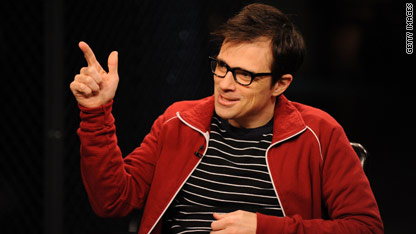 testing captions
Weezer front man Rivers Cuomo is on the road to recovery.
The singer remains hospitalized after a tour bus crash over the weekend, but is up and walking, according to the band's official website.
"Yesterday Rivers finally made it onto his feet for the first time since the crash, going on two hospital hallway walks with the aid of a walker," the band's webmaster Karl Koch wrote on the website.
"Meanwhile the docs say his insides are continuing to improve, but they have told him that while he will likely be released in the next few days, he ain't getting on a plane anytime soon…too risky to his lung."
Cuomo broke three ribs in the Sunday morning bus crash, and also suffered a small cut on his spleen as well as a small puncture in one lung. The bus, carrying Cuomo, his family, their nanny and his assistant Sarah Kim, hit a patch of black ice outside Albany and careened off the highway.
The band's website, which has been diligently updated daily, says that Kim – the only other passenger injured in the crash- also continues to improve.
Kim fractured two ribs and sustained back injuries. She left the hospital to return to Los Angeles with the band and is expected to recover in about a month.