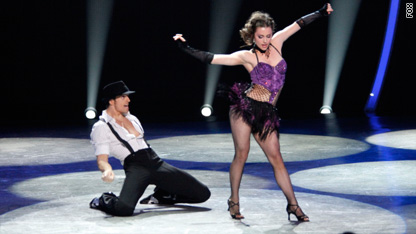 Ryan and Kathryn perform a sizzling cha-cha
As our judges reminded us Tuesday night, this is it: America's votes determine who will be in the season finale of "So You Think You Can Dance" next week. In fact, they implored us so many times to vote that I half expected Diddy to show up. After the top eight took the stage for the last time of the night, it was tough to decide which two would be cut before next week.
Last night's episode was also brought to you by celebrity DJ Samantha Ronson, whose remixes were featured in two performances: Kathryn and Ryan's disco and Jakob and Mollee's Broadway routines. The first one was great, aside from Ryan's ballroom-esque posture, as pointed out by Nigel, but not quite up there with routines we've seen in this style in the third and fifth seasons.
However, Jakob and Mollee's dance to "Easy Street" was a real highlight for me, and as much as it pains me to say it, not being the biggest Mollee fan, that could have sealed her place in the finale. Both of them were quite synchronized (unlike their Viennese waltz, which didn't impress me nearly as much as it did the judges), and Jakob made her a better dancer, the same way he had with Ashleigh.
Speaking of Mrs. Ryan Di Lello, she injured herself during rehearsals on a Bollywood routine with Russell, so her fate is completely up to the audience based on her past routines. Despite a touching moment where Ryan pleaded for his wife to remain in the competition.
This followed another underwhelming solo from him which ended just after it got going. Lucky for him that his cha-cha with Kathryn "sizzled, boiled," to quote Ryan himself, and set the place "on fire," to quote Mary Murphy, who gave them both a ticket on the Hot Tamale Train. That was high praise, considering that tickets have been harder to come by this season. It didn't hurt either that the routine got a standing ovation.
Meanwhile, Kathryn followed up last week's incredible solo with another one. It wasn't flashy compared to many of the others, so hopefully the cha-cha was flashy enough to get her through...
... Which brings us right back to Ashleigh, looking more and more like an unfortunate victim, after such strong performances by the other girls. Judging by the short clips we saw of her rehearsals, things were going swimmingly in her two routines with Russell, who once again had to hit the floor with a pair of choreographer's assistants.
It was no surprise that he hit hard on Shane Sparks' old-school hip-hop routine, but he really shined doing Bollywood, and most importantly, he really sold it. As always, his krumping solo was "bucc," (apologies to Lil' C), but I could have done without the Santa Claus suit and the business with the toy (bah, humbug). Kudos, however, for working through having lost his shoe two-thirds into it.
Leave it to "SYTYCD" alum Travis Wall, however, to once again steal the show with a "War of the Roses"-inspired number that was the perfect marriage between choreographer and dancers.
Everything that was great about Ellenore and Legacy was shown off here, and I still can't get over his simultaneous leap over, with her roll under, the dinner table. (On the other hand, it's unfortunate that, that had to be followed by their alien hip-hop routine by Tabitha and Napoleon ... NappyTabs, leave the overly-weird stuff to Wade Robson.)
As for the rest of the solos ... Legacy marred an otherwise stunning solo, with a cheap trick involving a phone. (Unless your name is Twitch, enough with the props.)
Jakob was amazing, as usual, but he hasn't really stepped it up. Compare this with Brandon and Jeanine last season. Well, there's always next week for him, as I think he is definitely safe. Ellenore (surprisingly) and Mollee (unsurprisingly) did nothing for me.
So if I were a betting man, who would I say won't be going to the finale next week? I'd say Ryan and Ashleigh Di Lello will be eliminated together. (However, I'd still like Old St. Nigel to grant my Christmas wish to see them dance together one last time before the season ends.)
Who had your vote Tuesday night? Did Ryan's pleading sway you at all? Tell us who deserves to be on stage for the finale on video, or in the comments below.