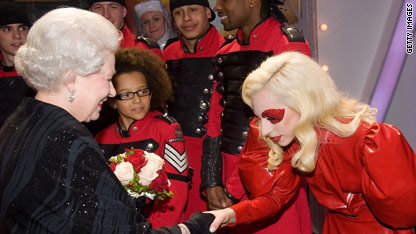 testing captions
The up-and-coming princess of pop, Lady Gaga, came face to face with Her Majesty, Queen Elizabeth II, and both women seemed delighted by the introduction.
Gaga and Miley Cyrus were among the performers who put on a show for Queen Elizabeth II and her husband at Britain's Royal Variety Performance at an opera house in Blackpool, England, on Monday.
The ever-reserved monarch reportedly giggled when Gaga bowed and shook her hand, which is exactly the reaction most would have upon shaking hands with Lady Gaga!
The long red dress and 20-foot long cloak Gaga donned for her audience with Her Majesty looked almost Elizabethan, save for the fact that it was made from synthetic PVC, a material frequently used as the insulation on electrical wires.
During Lady Gaga's performance of "Speechless," she sat atop a swing suspended 30 feet in the air as she played a piano held up on giant stilts. According to the United Kingdom's Daily Mirror newspaper, Lady Gaga's performance had to be toned down, and she was forced to drop a "suicide act" from her performance.
Other performers on the event's bill were Bette Midler, Mika and Michael Buble.
The event benefited the Queen's Entertainment Artists Benevolent Fund, which provides funds for entertainers in need of medical or financial aid.