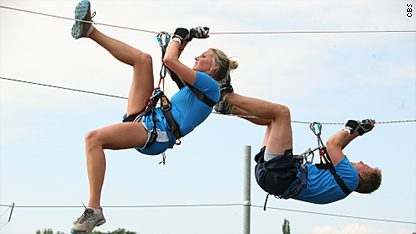 Meghan and Cheyne
After a memorable 15th season (which had not one, but three teams giving up on a challenge) for "The Amazing Race," the three remaining teams fought it out in Las Vegas for the $1 million prize. Through it all, Meghan and Cheyne, a.k.a. "Barbie and Ken," remained dominant, but this final leg threatened to keep them from finishing first. As a fan of two eliminated teams Gary and Matt, and Globetrotters Flight Time and Big Easy (that is, until their inexplicable abandonment of a Roadblock last week), I didn't really have a clear favorite going in.
First, former Miss America Ericka and her husband Brian had a particularly good cab driver who took them on a shortcut to Mandalay Bay, where one team member each would rappel down the front of the building. The other two teams eventually caught up with them, but it looked to me like they could manage an unlikely come-from-behind victory - that is, until they arrived at The Mirage, home of the Cirque du Soleil Beatles-inspired "Love" show.
Ericka had to be bungeed toward a bouquet of flowers, like the acrobats in the show, but this proved no easy task for them. At one point, a panicking Ericka asked to switch places with Brian as Meghan and Cheyne and bickering brothers Sam and Dan caught up with them. Ericka had a complete meltdown, switching again with Brian once they were left in last place.
At this point, I started to have a real fear that Sam and Dan, two of the most annoying racers in the show's history, might have a shot at the prize, especially once Meghan and Cheyne started having trouble figuring out that their next destination was the Monte Carlo casino. After asking around to anyone who would listen, though, they finally figured it out, but not before Sam and Dan had already started the final challenge.
It was quite disappointing to see that this challenge didn't involve remembering previous legs of the race, but instead - counting poker chips? (Professional poker players Maria and Tiffany were probably wishing they could have pulled off that Detour in Amsterdam even more now.)
This challenge was like kryptonite to Sam and Dan, who previously had problems with numbers in Dubai, and despite a worthy effort at organized counting, Meghan and Cheyne beat them out, as well as Brian and Ericka, who counted quickly, but not correctly.
It was on to the MGM Grand, where teams met with Wayne Newton, who told them the finish line was at his house. When Sam and Dan arrived, they couldn't figure out Newton's name, and he had to tell them. Though at the same time, I'm not entirely sure that Meghan and Cheyne would have known it without it being told to them beforehand.
Either way, Meghan and Cheyne's math skills proved crucial as they edged out Sam and Dan to cross the finish line.
Despite the predictability of this outcome, it was certainly one of the best final legs in quite a while as the lead kept changing, and all three teams remained in it until the last challenge.
What did you think of the finale and this "Amazing Race" season as a whole? Share your thoughts on video, or in the comments below.