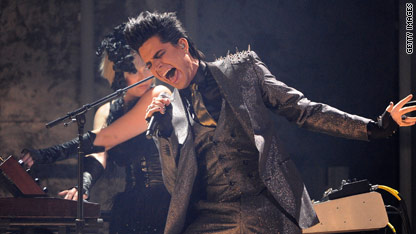 testing captions
ABC is finally extending an olive branch to Adam Lambert after the network canceled three performances by the singer in the wake of his controversial American Music Awards appearance.
Lambert will appear with the ladies of "The View" talk show on Thursday in a taped interview and performance, according to the show's Web site. The episode airs after Wednesday night's Barbara Walters primetime special, which features Lambert as one of the year's "Most Fascinating People."
Following Lambert's AMA performance, where he shocked the network and viewers with his salacious dance moves that included simulating oral sex with a dancer and kissing a male keyboardist on the mouth, ABC canceled the singer's live performance on its morning show "Good Morning America."
The singer was also asked not to appear on ABC's "Jimmy Kimmel Live." Lambert announced through his Twitter account that he had been uninvited from an unconfirmed spot on the network's New Year's Eve Special.
Lambert cleaned up his act for the CBS "Early Show" following the "Good Morning America" cancellation.
If Lambert can keep it clean this time around for the ladies of "The View," who knows? He could be asked to return for New Year's Eve. But given the fact that the "Rockin' Eve" holiday show would be live, it seems unlikely ABC will take the risk.