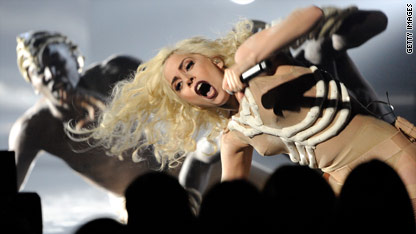 testing captions
In her critique of this year's Grammy nominations, colleague Lisa Respers France noted the uproar over Lady GaGa's exclusion in the Best New Artist category because one of her songs, "Just Dance," was nominated for a Grammy last year.
If there's one Grammy category that confuses critics and music fans alike, it's Best New Artist. What artists are eligible for the award, and why?
According to the official Grammy Web site, the Best New Artist award is presented to someone who releases, during the eligibility year, "the first recording which establishes the public identity of that artist."  Sounds simple enough, right?
But the language doesn't explain the nominations, and wins, of Lauryn Hill, Jody Watley and Shelby Lynne in that category.  You can easily argue that Hill and Watley established their "public identities" through their work with the Fugees and Shalamar, respectively.  Lynne won her Best New Artist Grammy in 2001,  more than a decade after charting several singles on the country charts.  Did Lynne win because "Best Career Comeback" is not a Grammy category?
Even this year's nominee list is not without controversy.  Silversun Pickups enjoyed modern rock chart and airplay success in 2006 and 2007, so why is the band nominated for Best New Artist, a few months after releasing its second full-length album?
The award is also the one Grammy category where, year in and year out, you can expect an eclectic mix of nominees going at it.  When Hill won in 1999, she beat a boy band (Backstreet Boys), a country trio (Dixie Chicks) and an Italian tenor (Andrea Bocelli).  The Beatles' 1965 Best New Artist win saw the Fab Four defeat two Brazilian bossa nova musicians (Astrud Gilberto and Antonio Carlos Jobim),  jazz-blues artist Morgana King and British songstress Petula Clark.
While the Recording Academy should be honored for recognizing so many genres in one category, perhaps it is time to change the award.  Grammys are awarded in several genres, so why not present Best New Artist awards in a variety of fields?  Let the new country stars battle it out against each other instead of facing off against a comedian, a hip-hop artist or a classical musician.
In the end, it may be time for the Recording Academy to get rid of the Best New Artist Grammy once and for all.  The winners and nominees may make great trivia (A Taste of Honey beat Elvis Costello?), but the award doesn't make sense when those making the nominations can't seem to agree on what constitutes a "new" artist.
Do you think the Best New Artist Grammy has outlived its usefulness?  And what constitutes a "new" artist to you?