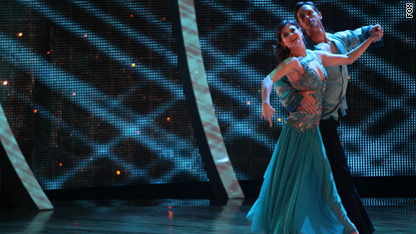 testing captions
Once the competitors make it this far on "So You Think You Can Dance," there really are no "losers," as all of them will get the chance to tour the country next year. Still, it was somewhat bittersweet to see two more dancers go, after showing so much potential.
There was a lot going in Nathan's favor: first and foremost, his tween fanbase, not to mention the fact that he got a ticket to Las Vegas back in season five after auditioning at the age of 17. The judges certainly saw a lot in him, as they sent him through to the top 10, and at one point, Adam Shankman offered him advice on what to talk about in his video profile to connect with the viewers.
Yet, for whatever reason, the heartthrob was eliminated Wednesday night after getting the fewest number of votes. Where did it go so wrong? It might have had something to do with being paired with Mollee, which ended up emphasizing their immaturity. By the time the two were separated this week, he showed some progress with Kathryn, but she still outdanced him. It was too little, too late.
The same could be said of Noelle, who had one brief shining moment with Russell dancing Afro-jazz. She really got to show off both her elegance and her capacity to smolder onstage with Ryan, but it wasn't enough, as the contemporary dancer from North Carolina was sent packing.

One reason for this could have been that it was all too easy to compare her solo with Kathryn's, which was magnificent (and Noelle's solo was much better Wednesday night, as well). What's far less obvious is why Kathryn joined her in the bottom two girls. The only mediocre dance she had Tuesday night was a rumba, and that was mostly due to a lack of chemistry with Nathan. Mary Murphy couldn't believe it either, calling her the dancer she had only dreamed she could be, and comparing her to some of the greats, like Cyd Charisse and Ginger Rogers.
As for the other bottom two-dweller, Ryan wasn't given much to do in his hip-hop routine, and his waltz was as great as could be expected from a ballroom dancer. I was impressed with him early on, but let's face it, his solos have a very high cheese factor. He could end up falling victim to the curse of the ballroom solo - one of the trickiest things to pull off - before long.
A few more observations:
– Can I say that I'm enjoying the results show entertainment more than usual this season? The Legion of Extraordinary Dancers were absolutely incredible, and it was great to see Dominic and Hok's dance crew Quest again, with or without Snoop Dogg.
– The same can't be said for the group routine from Tyce Diorio. It didn't exactly say "Billy Joel" to me, and I could have done without that kiss between spouses Ashleigh and Ryan, thank you very much.
– Kathryn's former partner, Legacy, was safe, as was Ashleigh, his partner this week, so it's clear that Legacy's fanbase shouldn't be underestimated. At this point, only Ashleigh, Jakob and Legacy have yet to be in danger this season. Could this be three of the final four? If Ashleigh makes it that far, especially, that will be quite the feat.
Were you sad to see Noelle or Nathan go? Any more theories as to why Kathryn was in the bottom two and Ashleigh wasn't? Share your views on video or in the comments below.