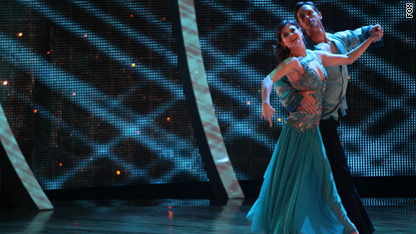 testing captions
Once the competitors make it this far on "So You Think You Can Dance," there really are no "losers," as all of them will get the chance to tour the country next year. Still, it was somewhat bittersweet to see two more dancers go, after showing so much potential.
There was a lot going in Nathan's favor: first and foremost, his tween fanbase, not to mention the fact that he got a ticket to Las Vegas back in season five after auditioning at the age of 17. The judges certainly saw a lot in him, as they sent him through to the top 10, and at one point, Adam Shankman offered him advice on what to talk about in his video profile to connect with the viewers.
Yet, for whatever reason, the heartthrob was eliminated Wednesday night after getting the fewest number of votes. Where did it go so wrong? It might have had something to do with being paired with Mollee, which ended up emphasizing their immaturity. By the time the two were separated this week, he showed some progress with Kathryn, but she still outdanced him. It was too little, too late.
The same could be said of Noelle, who had one brief shining moment with Russell dancing Afro-jazz. She really got to show off both her elegance and her capacity to smolder onstage with Ryan, but it wasn't enough, as the contemporary dancer from North Carolina was sent packing.
FULL POST