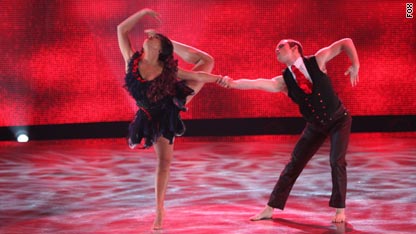 testing captions
There were a lot of memorable moments on Tuesday night's episode of "So You Think You Can Dance," but once again Sonya Tayeh's routine had them all beat. After a respectable but hardly memorable quickstep, it seemed as though two of the most skilled dancers, Ellenore and Jakob, might be in danger. All of those fears were erased as the audience and judges rose to their feet after their pitch-perfect performance of what Adam Shankman called "The Garden, part two," referring to Sonya's classic from season four. As fellow judge Nigel Lythgoe pointed out, it was pure brilliance with great chemistry to boot.
Chemistry, however, was sorely lacking with some of the other new couples in this top 10 group: namely, Ashleigh and Legacy, and Kathryn and Nathan. Don't get me wrong, there were some great moments in some of both couples' routines - except for Ashleigh and Legacy's hip-hop, featuring a flowing, all-too-distracting Dracula cape.
In Kathryn and Nathan's joyous Broadway routine, Nathan was the best he's ever been (Kathryn can certainly be thanked for that) but despite some wonderful technical work in their rumba, the connection wasn't quite there.
Noelle and Ryan had chemistry to spare - not a big surprise as Ryan has lots of experience partnering. So what if their office desk routine was a bit reminiscent of Neil and Sabra in season three? This may have been the best moment for choreographers Napoleon and Tabitha in two seasons ("Calle Ocho" aside).

I was pleasantly surprised to see some great chemistry between Russell and Mollee, especially in their jive, one of the best straight-up performances of the season. That one may have saved Mollee from the axe, because her solo didn't impress me this week.
When Russell took the stage solo, I jotted down in my notes "best solo of the season." That was quickly erased once Legacy performed. The guy keeps topping himself and the standing ovation he received might just be an indication that viewers will pick up the phone for him, despite an off night.
Among the other solos, Jakob continued to show that he is the best dancer this season, period. That's rarely been an indication of who will win, but for now it's safe to say that he will make top eight.
Among the contemporary girls, Kathryn's solo blew Noelle's and Mollee's out of the water, so I think she will stay safe as well. Ellenore's solos always impress, but I can't say the same for Ryan, Nathan or Ashleigh. If I had to guess, I'd say that Ashleigh and Nathan are in the most danger.
What do you think? Do you agree that Sonya's routine was the best of the season? Who has your vote (and who doesn't)? Tell us on video or in the comments below.