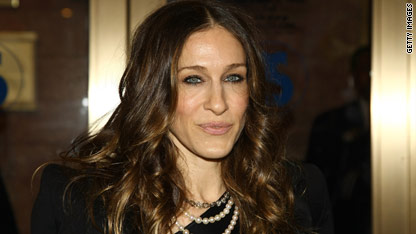 testing captions
Sarah Jessica Parker didn't plan on getting two new babies at once.  Now that her twin daughters are here she feels blessed but regretful that she has taken on so much work outside her home.
"Nothing can really describe what it's like to have two new little girls. It's been very different than when James arrived, since our family expanded in an untraditional way," Parker told Glamour magazine about the arrival of her twin girls, Tabitha and Marion, who she had through a surrogate.  "We didn't plan on having two, but were doubly blessed, and it's been just wonderful."
Parker said the babies, now five months old have already developed separate personalities.
"One would prefer to be held 24 hours a day, and the other is already suffering from type A issues," Parker said. "It's been amazing but complicated because of my current work schedule, which I have enormous regrets about."
The actress, who is starring in the upcoming movie "Did You Hear About the Morgans?" opposite Hugh Grant, is juggling filming of the "Sex and the City"  sequel as well as several other movie projects, which she says is difficult with three young children in the house.
"It is the eternal conflict of every working woman, and I am not complaining, because I've done this to myself. And I have a wonderful, wonderful nanny who allows me to be a working person," Parker said. "The great challenge for me is to be all things to all people; I want to be a great mother, and I want to feel good when I'm at work. But it is hard."
Her strong work ethic is something she hopes to instill in the twins and her older son with husband Matthew Broderick, James Wilkie, 7. She doesn't want her kids to grow up with a silver spoon in their mouths.
"I don't want my children to feel they have a sense of entitlement. I want them to work hard and be challenged. That's hard to do when you have everything you need and want, so I am working on those values all the time," Parker said.
For fans anxious about news from the set of the much anticipated "Sex and the City" sequel Parker said it will be much more upbeat than the first film.
"The first movie had a lot of sadness in it, and it was very brave about breaking the rules of romantic comedy," Parker said. "This one is very much the antidote for that: It's a romp."
The actress explained that the sequel, due in theaters in 2010 is about women's and men's roles in a marriage and old traditions versus new ones.