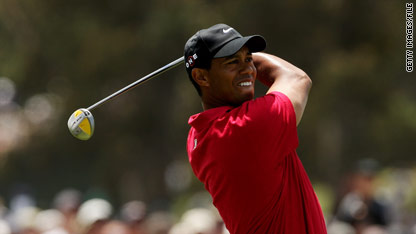 testing captions
"A nation reveals itself not only by the men it produces, but also by the men it honors." So said John F. Kennedy. Has there been, in recent times, an American public figure more universally honored and admired than Tiger Woods?
I think like Michael Jordan before him, he is revered because he's seemingly perfect. And Americans want to be perfect. "If I have the perfect job, the perfect spouse, fame and acclaim, six-pack abs or an incredible bust – then I'll be happy." So along come Tiger and Michael as examples that yes, by God, perfection is possible. If we can't have it for ourselves, then at least we can have it vicariously through them. We so badly want it to be true.
Well, if the tabloid rumors are to be believed, Tiger has been knocked off that God-like pedestal we put him on. There are whispers of infidelity, and of course the celebrated car accident.
There will be those who are let down and disappointed, but I suspect more than a few will say, "Oh what a relief. He's human like the rest of us. He's having marital troubles like a lot of us. His foibles make him more interesting, more relatable."
Others will wonder why he might have cheated on his hot Scandinavian wife and the mother of his children. Is the male libido that relentless and unquenchable? Does being a famous man amp up that "perpetuate the species" sex drive woven into our male DNA to the nth degree? Perhaps the answer is yes.

But the question for Tiger is how to deal with this scandal. My old college professor, and later a colleague at CNN, Senior Political Analyst Bill Schneider, taught me there are two ways to handle a public relations crisis. He was speaking of politicians, but it really applies to anyone who's famous and gets into trouble.
The first approach is the stonewall. You simply deprive the media firestorm of the oxygen it needs to keep raging. The press needs raw materials to tell a story: fresh video, soundbites, and a continuous flow of information. So you go into hiding. You take away their tools. Shut off the flow of information. Sun yourself on Napili Beach, knock back a few mai tais, and wait for the storm to pass. After all, it won't be long 'til another celebrity gets into trouble and the press – and the American people – with their short attention spans will be engrossed with that poor schlub's pecadillos. It seems so far that it's in Tiger's privacy-seeking character to go that route, and it looks like he already has. I can't speak to the mai tais, of course...
Then there's the second approach, what I call the "blow the ending" strategy. The press loves to drip, drip, drip out facts that lead to a spectacularly dramatic ending (see Watergate). So what you do is you get the worst information out first. You own up to the worst possible thing so the press can't build a narrative that leads to an entertaining conclusion. You blow the ending. Colonel Mustard did it in the parlor with a candlestick. I slept with a hooker. I traded arms for hostages. The end. It nips everything in the bud. Unforunately for some stars, what makes good public relations sense doesn't always make good legal sense and they're forced to stonewall.
What do you think Tiger should do? And are you disappointed in him?