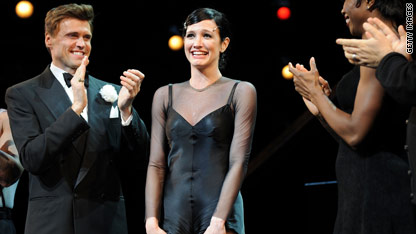 testing captions
It was a family affair as Ashlee Simpson Wentz made her Broadway debut as Roxie Hart in the musical "Chicago" on Monday night at the Ambassador Theater with sister Jessica, parents Joe and Tina and hubby Pete Wentz cheering the actress on from the audience.
Simpson, who first appeared in the role in London's West End, has joined the "Chicago" cast for a 10-week run through February.
"I love her energy. She's spunky. She acts like a little broad," said veteran "Chicago" stage actress Roz Ryan, who has played prison matron "Mama" Morton for 12 years. "When I first saw her I said 'ohmygosh she's so tiny' and when she got onstage I was like 'hellll lookey at her'."
Simpson Wentz said reviving the role was just like riding a bike. "Once you get onstage it all comes back," she said following the show.
Her stage turn follows her ejection from CW series "Melrose Place" this fall. Though Simpson was uniformly panned for her small-screen work, the over-acting that made her seem awkward on the dramatic series served her well as the comedic heroine Hart onstage.
"She was playing a dark character," proud papa Joe Simpson explained about his daughter's role on "Melrose Place." "She was playing pretty evil which is not who she is. She's funny."
Joe Simpson said he was crying throughout the performance. The whole Simpson family, in fact, was pretty emotional.
"I'm gonna cry. I brought Kleenex," Ashlee's elder sister Jessica exclaimed before the show. But during the musical Jessica laughed more than cried, "She is doing her own version of Roxie Hart," Simpson said about her sister's booty-shaking vaudevillian performance.
Tears did come to Jessica's eyes as she and the entire family gave Simpson Wentz a standing ovation at the end of the performance, while the rest of the audience remained in their seats.
"I couldn't be prouder," Jessica hastily said after the show before she was rushed into a makeshift VIP area at the show's after-party at the Inc Lounge in the Time Hotel. While the rest of the cast mingled with well-wishers, the Simpson Wentz clan privately celebrated Ashlee's performance in the back of the bar.
The one family member who sat out Ashlee's opening night was her and Wentz' one-year old son Bronx, who was home asleep, though he did make it to a rehearsal earlier in the day.
"Bronx was there and cheering her on and laughing," Joe Simpson said.