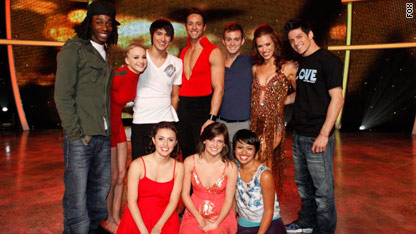 testing captions
Ladies and gentlemen, your top 10 dancers! And... not too shabby. If you had told me a few weeks ago that Mollee, Ashleigh and Legacy would still be in the competition on "So You Think you Can Dance," I wouldn't have believed you.
On this Thanksgiving, I'm thankful that Legacy, Kathryn, Ashleigh, Jakob, Noelle and Russell were safe on Wednesday night's result show. I was definitely less surprised than the judges that Mollee and Nathan ended up in the bottom three - it seems like their "fan favorite" status isn't all it's cracked up to be. It will be very interesting to see how they do with new partners next week. Another disagreement with the judges: I enjoyed Nathan's solo better than Mollee's. I've been betting against Mollee for a while now, and I don't think she'll make it far in the top 10.
Karen and Victor going into the bottom three was pretty obvious from last night, but Ryan and Ellenore in danger was a real shocker. For the life of me, I can't figure that one out (other than to say that Russell seems to be a true "fan favorite"). I enjoyed the couple's solos, though the judges were not too pleased with Ryan's.
After a Shakira performance that reminded me a bit of "Rhythm Nation," judge Nigel Lythgoe didn't seem to have any more of a clue than I did on why Ellenore isn't getting votes. Needless to say, though, she was safe, and Karen's ouster was as certain as a food-coma on Thanksgiving.
FULL POST