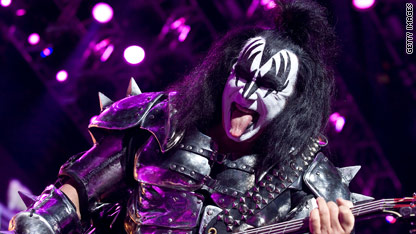 KISS still packs stadiums after more  than 35 years, but the legendary rock band will use Facebook to let even more fans experience Wednesday night's concert in Los Angeles.
"At the very least, it's a way to get a taste of the experience and  either it will undoubtedly entice you to want to come to a show, or it will you  relive what you saw when we hit your town," KISS frontman Paul Stanley said.  Their first-ever live Web concert begins streaming at 8:30 p.m. PT (11:30 p.m. ET) - as they take the Staples Center stage.  
KISS shows are known for explosions, fire breathing, blood spitting,  smoking guitars and a huge wall of ear-splitting amps. The group pushed the  envelopment of technology and pyrotechnics in their 1970s road show with stage  antics and designs that are still imitated by artists today, Stanley said.  "The truth is, when it comes to what has become the expected
rock-and-roll presentation, it's all lifted out of KISS," he said.  They plan to "blow the place up" in the Los Angeles show, he said.
"We're gonna blind, deafen and pummel our audience and leave them smiling."   Stanley said if someone had told him in the early days that fans around  the world would watch a KISS show on a computer screen "I would have probably  said, 'What are you ingesting and where do I buy it.'"  Fans can chat online about the show through Facebook, but the video stream cannot be stored on their hard drives, he said. "It allows people to be a part of the event without getting to keep it," he said. The Web concert can be seen through a Ustream link at Facebook.com/KISS.