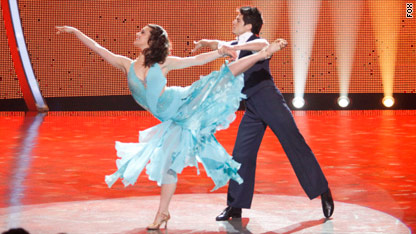 testing captions
After the loss of star choreographer Mia Michaels, how lucky is "So You Think You Can Dance" to have Sonya Tayeh? Both of her routines ranked among the best of this season. But those weren't the only highlights, and despite some really rough patches, this top 12 performance show really delivered.
The combination of Kathryn and Legacy, who have yet to make a wrong step all season, with Sonya's best piece since "The Garden" made for an explosive performance. This really highlighted what my favorite couple does best, together and separately (that backwards crab walk!). I had to watch it again right away. They followed up with a Viennese waltz which more than made up for what it lacked in technique with a beautiful performance. It will be a real shame to see them go their separate ways next week, and I hope Nigel is wrong in saying that they might be in danger.

As for Sonya's second routine, was there any doubt that Jakob would nail it? His partner Ashleigh once again surprised once again by keeping up with him every step of the way. I have a feeling we'll be seeing this one again on the finale. For this couple's second dance, Ashleigh was right at home turning in her best performance to date, while Jakob showed he could cha-cha with the best of them. I breathed a sigh of relief seeing this, after the sub-par samba from Russell and Noelle, and Mollee and Nathan's monstrosity from two weeks ago.
Not to be outdone, Ryan and Ellenore brought the Lindy hop back in style after three long seasons, and despite some amazing "coffee grinders" (thanks for the terminology, Adam Shankman), it was nothing compared to their "Chicago"-inspired Broadway routine. The pair were perfectly in character and in sync, and Ellenore especially was a "rock star," as Adam described her.
After having a tough time with that samba, Noelle and Russell ended the night on a better note thanks to a Tyce Diorio contemporary routine, which was a literal work of art (with paint and everything). Will this save them from the bottom three? All signs point to no.
Despite so many high points, the night certainly had its share of lows. Two more couples who aren't strangers to the bottom three will likely return there: Karen and Victor, whose tango and hip-hop routines lacked chemistry, and Mollee and Nathan - though admittedly, their can-can was a lot of fun. On the other hand, a hip-hop routine based on Alexander Graham Bell? Seriously?
Do you agree with me on the bottom three? Are you jumping on board the Sonya train (not to be confused with the hot tamale train)? Which of these couples will you miss the most next week? Share your thoughts on video or in the comments below.