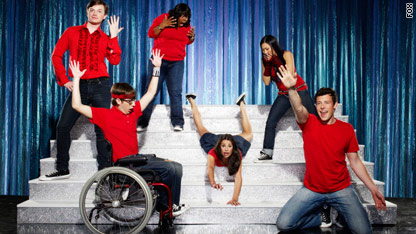 testing captions
"Glee" hasn't gone on hiatus yet, but I am already starting to feel withdrawal symptoms.
According to The Hollywood Reporter, the hit Fox show is headed for a four-month hiatus after it burns through this season's remaining episodes.
That means the gleeks will have to wait until April 13 to enjoy the quirky shenanigans at McKinley High School.
FOUR MONTHS?!?!?
That's an eternity when it comes to waiting for your favorite show to return. I still haven't gotten over the almost twenty-month long hiatus of "24." I have to admit, that show lost me after I had to wait to find out what happened to Jack Bauer.
But I had been watching "24" for many seasons and "Glee" is only in its first year. And even though I absolutely love, love, love it who knows how I'll feel months from now and what will be vying for my attention then?
Is it a little risky to leave fans now for so long, or is Fox crazy like one in anticipating that the wait will stir up even more "Glee" mania?
After all, the gamble to air a sneek peak episode months before the season even premiered certainly paid off with tremendous buzz. And Glee won't be at all hurt by having the juggernaut "American Idol" as its lead-in when it returns – even though the show's return on Tuesdays starting in April will pit it against the final season of "Lost."
What do you think? Will "Glee" be worth the wait?