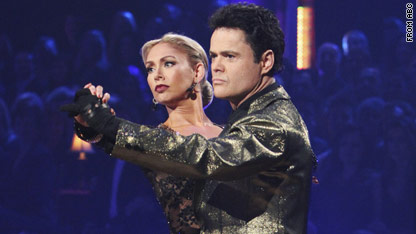 Will Donny Osmond pull off an upset tonight on this season's finale of "Dancing With the Stars?"
It seems possible after an intense evening of competition Monday that ended with the singer receiving his first perfect scores only a week after it looked like he might be kicked off the hit series.
Osmond and his professional dancing partner Kym Johnson and the other two couples left in the show had to dance three routines last night, including two individual numbers and a group "mega mix challenge."
Kelly Osbourne and her partner Louis Van Amstel first did a kicky, intense Argentine tango. (Those are fun to watch, though whenever I see this tango performed I always feel like the dancers will accidentally kick themselves or each other while doing the flirty leg moves.)
The couple received praise from the judges, though Bruno Tonioli said he wanted more "ripe sensuality."
Singer Mya and her dancing partner Dmitry Chaplin seemed to solidify their lead after performing a Paso Doble to "We Will Rock You" – a routine that the judges described as flamboyant and amazing and one that received perfect scores.
Osmond and his professional dancing partner Kym Johnson did a nice Cha Cha that earned them three nines. But it was their freestyle dance that had the judges unanimously flashing their "10" paddles. Len Goodman called the Broadway routine an "absolute show stopper," while Carrie Ann Inaba exclaimed, "Welcome to the hall of fame of the freestyle."
Mya, on the other hand, disappointed with her "Hairspray" routine, which Inaba called "not outstanding." Goodman said "it never went anywhere" and Tonioli confessed that he expected something more spectacular.
Osbourne had the crowd on its feet for her freestyle routine set to "I Will Survive," but the dance seemed to lack some energy and received the lowest score of the three couples.
So, point-wise, Mya is still in the lead, followed by Osmond and Osbourne. But viewer votes could make this a very close one.
Who do you think will win the mirror ball trophy tonight?