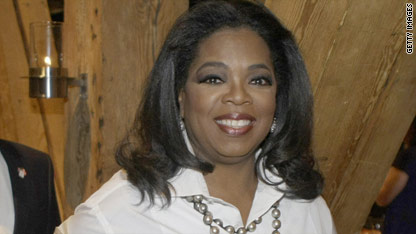 If anyone knows the art of the hustle, it's Oprah. The talk show host, who announced last week that she will end her 25-year reign over daytime television in September, 2011, is already trying to bring fans to her new network, the Oprah Winfrey Network, or OWN, 13 months before it is set to launch.
In an email newsletter sent out to Oprah's mailing list on Monday night, Oprah took the opportunity to introduce OWN.
"Fifteen years ago, I wrote in my journal that one day I would create a television network, as I always felt my show was just the beginning of what the future could hold. For me, the launch of OWN is an evolution of the work I've been doing on television all these years and a natural extension of my show," Oprah wrote in the email.
Potential viewers are informed that OWN will be taking the place of Discovery Health Channel come January 11, and urged to discuss options for securing the network with their cable providers.
The email directs readers to an advertisement for the network, which seems to try to equate Oprah's new journey with the personal journey of the viewer, asking the question, "What's next for you?" Oprah's only appearance in the ad is a screen shot where she offers and encouraging smile.  But the rest of the ad is filled with smiling, self-assured folks, puppies, ribbons, bows and happy things. The message is that OWN is all about you, the viewer.
The ad offers no real sense of what OWN's programming will consist of except for the implicit promise that watching it will be a transformative experience.
The message is a good one. It is a very Oprah one, what remains to be seen is how Oprah and OWN will maintain this momentum over the next 13 months. But knowing Oprah, she definitely has a plan.