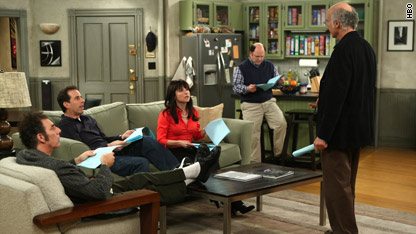 Larry David and the cast of 'Seinfeld'
Sunday night's season finale of "Curb Your Enthusiasm" brought us the long-awaited "Seinfeld" reunion (though it was actually the final part of several episodes throughout the season). And the one thing that can't be denied is that the cast got back into character without missing a beat. There was something magical about watching the same people on the same set reciting some very "Seinfeld"-ian lines.
However, it has to be asked: Would this have worked as an actual "Seinfeld" reunion, and not bits and pieces of one worked into "Curb?" Probably not. The references to iPhones, Blackberries and Bernie Madoff seemed a little forced and very little of the "show-within-a-show" made me laugh out loud. At the same time, it was still better than the "Seinfeld" series finale - which Larry David, the character, and Larry David, the actual person, continue to defend, even against Jerry Seinfeld himself.
Having said that... as an episode of "Curb Your Enthusiasm," the show was great. The season-long plot line of Larry trying to cast his ex-wife to play George's ex-wife, followed up with Jason Alexander actually trying to steal her away from him was genius. Despite his non-"iconic" status, as Jerry described it, it was pretty hilarious seeing Larry try to play George when Jason briefly dropped out. Larry's obsession with trying to catch who left a coffee cup stain on Julia Louis-Dreyfus' table ("Do you respect wood?"), was classic "Curb," and got the biggest laughs out of me.
Whether taken as a "Seinfeld" reunion, or just a very good episode of "Curb," at least it leaves "Seinfeld's" legacy on a higher note than it was when the show actually ended, and gives us a nice glimpse of what would have happened to these characters 11 years later.
What did you think? Did you enjoy the "Seinfeld" reunion itself more than I did? What did you think of this "Curb" season as a whole? Sound off on video, or in the comments below.