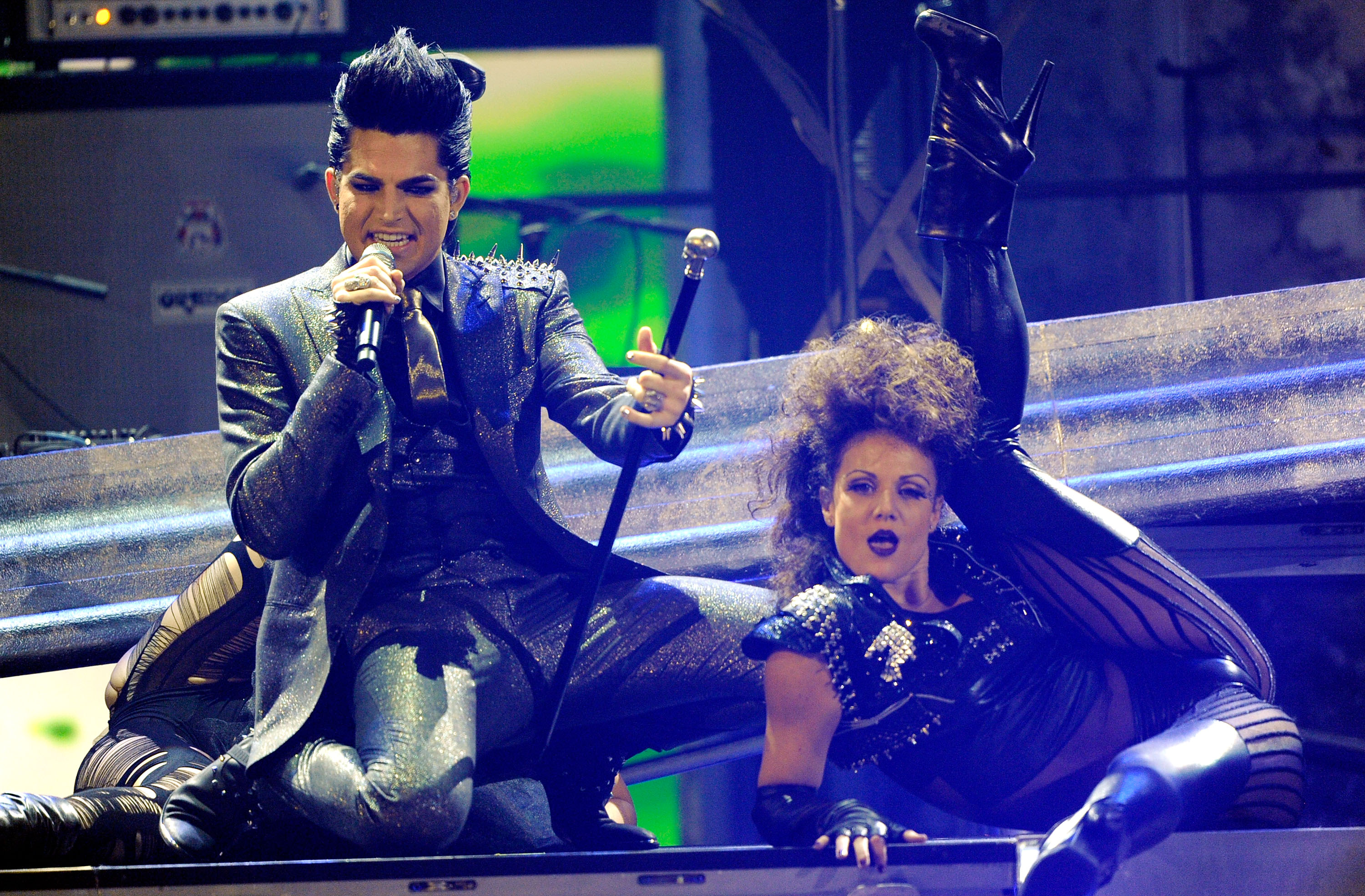 testing captions
You must remember this; a kiss is just a kiss. Unless of course that kiss is between two men… and broadcast worldwide from say, the American Music Awards.
Then a kiss becomes part of the national agenda, as it did when Adam Lambert planted a wet one on the lips of his keyboardist at the AMAs on Sunday night. And even though Lambert's kiss wasn't the first time two men have smooched on network television, it promises to take on a life beyond just a kiss. So let's prepare to brace ourselves for Smooch-gate 2009, as everyone and their mother weighs in on Lambert's lip lock.
 
Some folks are already so riled up that they have taken to Twitter asking people to file a formal complaint about Lambert's performance to the Federal Communications Commission. And others have just begun complaining.
 
"Just watched Adam Lambert's performance @ AMA's. Appalling," JoshYates posted to Twitter, in one of hundreds of tweets lambasting the performance, of which there are an equal number applauding it. 
 
The AMA kiss isn't the first time that two men have kissed on network television and it certainly won't be the last. In 2000, the characters on the NBC sitcom "Will & Grace" ambushed Al Roker on the "Today" show to protest the network's refusal to air a gay male kiss on television. Out of frustration the characters cheekily kissed in front of Roker and the live "Today" audience. Admittedly it was a chaster kiss than you might plant on your grandmother.  Surprisingly teen drama "Dawson's Creek" was one of the first shows to pick up the mantle from there and show an onscreen male couple in a serious relationship sharing a really passionate kiss in 2000.
 
The barriers to gay kissing didn't exactly come tumbling down after that, even on "Will & Grace". Will Truman's (played by the straight actor Eric McCormack's) love life remained G-rated until 2006 when the show took on another network television barrier with Truman kissing his boyfriend James, played by another straight actor Taye Diggs, in what was promoted as the first interracial gay kiss on television.
 
Since then two men have kissed on network television on CBS' "Cold Case" and ABC's "Brothers and Sisters" and "Desperate Housewives." And this season, even the CW's "Gossip Girl" had a gay kiss involving a straight character, Chuck Bass. So shouldn't we be used it by now? Apparently we aren't.
 
Last week "Out" magazine editor-in-chief Aaron Hicklin attacked Lambert and his management for not allowing Adam to be gay enough in front of the press. So even Hicklin had to admit he was pleasantly surprised by Lambert's kiss on Sunday night.
 
"With his performance at the AMAs last night, Adam Lambert is signaling loudly and clearly that he refuses to be bound by the old rules. Having been critical of his management for being overly cautious around Adam's photo shoot for 'Out' I'm delighted and thrilled by the statement his AMA performance makes. I don't think he'll lose a single fan by staying true to himself, and quite likely will gain a legion of new admirers," Hicklin said. "Adam's reach and appeal among younger audiences makes him infinitely more threatening to conservatives than, say, Elton John, and I think he knows it and wants to make the most of it."
 
Lambert didn't just kiss a guy. He also walked a dancer on a leash, grabbed a dancer's head and simulated oral sex and flipped the crowd the bird.
 
But that kiss is what made headlines and that kiss is the photo everyone will remember from the 2009 American Music Awards and that kiss is going to be so much more than just a kiss once the media is finished dissecting it.