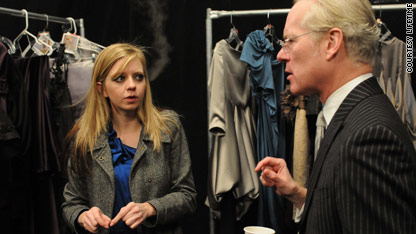 Here's the thing about "Project Runway": yes, we watch for the drama brought by the designers, but we also watch it to witness the talents of the undiscovered.
There's no better mix of those two elements than the final episode of every season, when there's nothing left to do but show and prove. I wasn't at all surprised that the final three came down to Carol Hannah, Althea and "Meana Irina," who, despite her attitude problem, can design her butt off.
Full disclosure: I started slacking on my "Runway" devotion about halfway through this season. I became one of those fans who blamed everything on the show's move to Lifetime: this season's lack of bite and wit "never would've happened on Bravo," I said.
But last night, I realized how shortsighted I'd been. The final episode had everything: tears from a sick but still sewing Carol Hannah; anticipation; the trinity of Nina, Heidi and Kors, plus frenzied pacing as the designers and three resurrected from eliminations – Christopher, Logan and Gordana –whipped up a 13th look for their 12-piece collections at the 11th hour.
And if that wasn't good enough, we even got a Tim Gunn breakdown! A Tim.Gunn.Breakdown. When the always suave, never flustered one is walking around flailing his arms and yelling threats that "he's about to lose it," you know it must've been one tense tent.
If you missed last week's episode: Carol Hannah drew her inspiration from the "ethereal" architecture at Duke U., Althea from retro sci-fi movies and Irina wanted to do her take on the urban woman warrior with an all-black collection – which Nina explicitly told her not to do. Yeah, she did it anyway. And it kinda rocked.
See, Irina's like the girl from high school whose meanness was really a line of defense – much like the hooded outerwear and knits, black leather and hats that she thought a New York woman needed to battle it out in the Big Apple. It was dark, but cohesive; ready-to-wear, but with sparks of original detail.
Carol Hannah's was equally impressive in terms of construction and tailoring – just look at the inverted pyramid tutu topped off with body-hugging silk, or her exquisite Grecian gown – but it completely lacked cohesion. I haven't agreed with the judges on much this season, but I co-signed out loud when they noted Irina was the only who presented an actual collection.
Because, sadly, Althea the suit-maker just didn't bring it, from her runway day outfit – halter top, leggings, and ankle Uggs? Really? – to her mishmash of "sci-fi" looks. Never mind that none of it actually appeared futuristic or innovative (see: Jay McCarroll, season one, if you need a refresher on what innovation looks like). The judges kept commenting that she was "plugged into the street," and I have no clue what that means other than I don't particularly want to wear it. Yes, she can do separates, but unfortunately, that separated her collection from winning the title.
What did you think of the season finale? Was this season everything that you expected - or wanted - it to be? And more importantly, is there a tiny piece of you that thinks Carol Hannah was robbed?