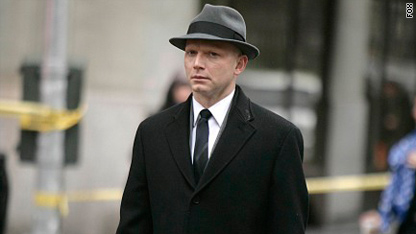 A mysterious Observer on the Fox series 'Fringe.'
Last night's episode of "Fringe" - the culmination of a full week of hype - certainly delivered on answers, but added a heaping helping of new questions.
So far, "Fringe" has done a better job of explaining itself in its second season than "Lost," co-creator J.J. Abrams' previous series. We've figured out this much: there are alternate realities, and Walter (John Noble)'s son Peter (Joshua Jackson) is actually from an alternate reality, he just doesn't know it, and therefore Walter is hesitant to tell him all he knows. One thing we still don't know is exactly how the bizarre Observers - yes, we find out for the first time on the show that there's more than one - fit into all of this.
Since Walter is playing dumb on the Observers, which he actually knows a lot about, we get one of those scenes essential to any J.J. Abrams show where a scientist-type has to explain what's going on. Agent Olivia Dunham (Anna Torv) and Peter pay a visit to Massive Dynamic, where we learn the theory that the Observers aren't traveling through time, nor are they immortal, but they "observe" time, especially major historical events.
One Observer in particular breaks their code of not acting, except when correcting a mistake they made, by kidnapping a young woman prior to taking an airplane which is destined to crash. Because of this, we also find out more about their strange sci-fi instruments, and that they carry strange guns, which look normal, but throw people back and stun them.
As it becomes more clear that Walter knows a lot more than he's telling, Noble really gets to shine here, being equally brilliant playing the absent-minded, slightly-mad scientist (I live for the scenes with his assistant, Astrid), and the man with all the answers who can advise an Observer on how to proceed.
When an assassin's bullet takes down the rogue Observer, the immortality theory bites the dust with him, and he reveals that he has found the capacity to have emotions, to cry and even to fall in love. He felt that the woman he saved from the plane crash was important, having observed her all of his life. Was he just an inter-dimensional stalker or is there more to it than that?
Aside from the fact that Observers are being seen more and more, foretelling some momentous event, Olivia, who recently took a trip to another reality, is someone they see having a particularly dark future.
I was happy to see an episode focusing on the overall story-arc of this show again, as the weird-crime-of-the-week episodes aren't nearly a strong.
Were you fascinated by the Observers as well? Do you agree that this show could stand to have fewer stand-alone episodes? What are your "Fringe" theories (what is the meaning behind the strange symbols before commercial breaks, anyway)? Share your thoughts on video, or the comments below.