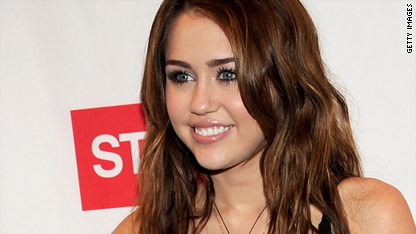 Miley Cyrus
Here's what's happening in the world of entertainment today:
Sarah Palin's Monday appearance on "The Oprah Winfrey Show" was a big boost for Oprah's ratings: The Hollywood Reporter says that the last time her viewership was that good was in 2007 when the entire Osmond family appeared on the show.
Miley Cyrus is not a fan of the "Twilight" saga, EW.com reports. Cyrus told an Ohio radio station, "I've never seen [Twilight], and nor will I ever." Turns out she is not big on vampires and werewolves in general.
Variety reports that Jennifer Hudson has been cast as Winnie Mandela, wife of Nelson Mandela, South Africa's first black president, in the upcoming biopic "Winnie."
"Harry Potter" himself will appear on a future episode of "The Simpsons," EW.com reports. Daniel Radcliffe is the latest celebrity guest star for the show, now celebrating 20 years.