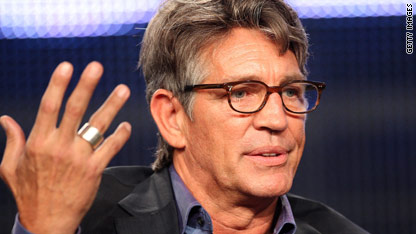 Eric Roberts
A few days ago, I was playing trivia at a local restaurant when the host asked the players a question that didn't count for points. He merely wanted our opinion on a question that he'd been thinking about for some time.
What actor whose career has been on the decline and/or stalled would you like to see cast in a role that could essentially revive their standing in Hollywood?
The movie industry has shown us numerous examples of the career revival.  "Pulp Fiction" brought John Travolta's career back to life after a decade in poorly received films, while "The Wrestler" rejuvenated Mickey Rourke's career after several years out of the mainstream.
So who did I choose as warranting a career revival?  Much to the chagrin of the host, I made two picks - one actor and one actress.
Eric Roberts: Back in the 1980s, Eric Roberts was the man to cast if you wanted someone edgy, unpredictable and intense. Films like "The Pope of Greenwich Village" and "Runaway Train" showcased Roberts as an actor that demanded your attention whenever he appeared on screen.
But his career went downhill for personal and legal reasons and by the 1990s, Roberts was a regular on the made-for-TV and made-for-video movie circuits.  Roberts' fate was even spoofed in an episode of "Seinfeld," with Kramer praising his performance in a fictitious film he found at the video store.
Roberts has been steadily employed in both TV ("Less Than Perfect") and film ("The Dark Knight") in recent years, and he appears to have his life back on track again.  Yet he's missing that one role that could put him back on the A-list. Does one of our great directors have a leading part in their next film for him? Heck, I'd settle for Roberts playing Rod Blagojevich in a biopic on the former Illinois governor's life.
Mena Suvari: A decade ago, Suvari was Hollywood's "It girl." She was box office gold as Heather in the first two "American Pie" films, as well as Angela Hayes in the critically acclaimed "American Beauty."  She seemed to be destined for years of box office stardom.
But that didn't happen. Many of Suvari's recent films have either had a blink-or-you missed it run at the box office ("The Mysteries of Pittsburgh") or went straight-to-DVD (a 2008 quasi-remake of "Day of the Dead"). I can't put my finger as to why this has happened, but Suvari deserves better. Perhaps a big-name director will heed my call and cast her in a film worthy of her talents.
What actor do you think deserves another shot at something great? Who warrants a career revival?