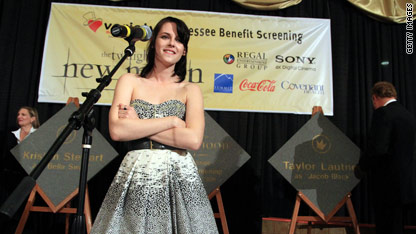 testing captions
Kristen Stewart's performance on the "Today" show this morning isn't sitting well with "Twilight" fans who wish she would lighten up a little bit off the big screen.
The Twittersphere was all agog this morning after Stewart appeared on the "Today" couch with the entire morning show crew of Matt Lauer, Meredith Viera, Ann Curry and Al Roker, all of whom seemed to be getting a little Twi-crazy themselves.
"Kristen Stewart is just so boring. Looks boring. Acts as if shes bored. Shes plain boring," Poppins__09 posted on Twitter after the interview.
"Omg. How can Kristen Stewart be an actress when she can't even answer a question in an interview without stuttering and being awkward," aurenhayes7 also posted.
Stewart's body language appeared quite unfriendly towards the bright and chipper group as she sat hunched over, her arms crossed against her chest, tapping her foot nervously up and down.
"Ughh kristen stewart cheer up already. you're on the today show," helenutswoah posted on Twitter.
"Kristen Stewart on 'Today' was a waste of time. I wonder if her on 'Regis & Kelly' is going to be any better. It will have to wait for now," wrote jesseboijai.
Unfortunately, the reviews of Stewart's appearance on "Regis & Kelly" a mere hour later didn't get any better.
"Ok Kristen Stewart on Regis & Kely today....awkward...studders in real life as in the movie...not a good actress...horrible interview!!!!" AmandaBarberio posted.
Granted, Stewart's character in the "Twilight" series, Bella Swan, is a moody heartbroken teenager, so maybe she is just a very serious Method actress. Stewart also admitted to the "Today" crew that she had a cold and her interview during the 8 a.m. hour was the first of three television appearances in New York City just today.
But still, with a blockbuster movie about to hit screens and a rumored romance with every tween's dream Robert Pattinson you would think that Kristen could put on the happy face for five minutes of an interview. Isn't that what acting is all about?