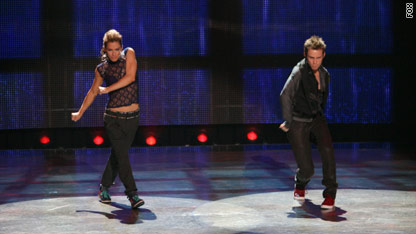 Ashleigh Di Lello and Jakob Karr
Just a few weeks ago, who would have thought that Legacy, Ashleigh and Kathryn would be where they are today? Tuesday night's episode of "So You Think You Can Dance" showed astonishing growth from dancers who might very well have been dismissed coming out of the Las Vegas callbacks.
I was a much bigger fan of Legacy than Ashleigh, mind you, but these two are really beginning to shine - though in Ashleigh's case, it certainly doesn't hurt that she has one of the most talented dancers this show has seen, Jakob, as a partner. He's probably been the most consistent dancer this season. Ashleigh has matched his performance for the second straight week with a typically strong Tabitha and Napoleon hip-hop routine. (Last season, it was foreclosures; this season, text messaging ... always of the moment, those two.)
I worried about Legacy's troubles with transitions in his solos but he's really shown he has what it takes for this show, and Kathryn, only known in Vegas as the girl-who-cried-a-lot, showed the judges that she could bring maturity, not to mention intensity, to her performances, as the two of them took on a paso doble every bit as good as last year's "Matrix"-inspired routine with Brandon and Jeanine.
Russell took on the fox trot for the second time, and this time got to perform with his actual partner, Noelle. The judges liked his performance better this week, though I'm still at a loss to see what they didn't like about the first one. Their chemistry continues to improve, but fox trots don't usually make people pick up the phone.
Breaking out of her cage, quite literally, was Channing, in a Tyce Diorio routine where she portrayed a bird with Victor. Nigel Lythgoe's critique that she appeared to be enjoying herself for the first time was all too true. The judges seemed to like Victor's technique a lot, but not much else. However, this was their best routine, so that could be enough to save them.
Fresh off the worst salsa dance ever, Mollee and Nathan went to Laurieann Gibson's pop jazz boot camp, and came out with a lot more determination and synchronization in their dancing, but there's still a long way to go for them. Still, I have a pretty good feeling that they won't even be in the bottom three couples.
Also having a rough time of it last week were Ellenore and Ryan, but they must have figured they were as good as safe when they pulled "SYTYCD" alum Travis Wall's name out of the hat. I still prefer last year's Jeanine and Jason routine but this one was nearly as good. It was certainly in Ellenore's wheelhouse, and Ryan matched her brilliantly. As expected, Mary Murphy teared up, telling Ryan that he inspired fellow ballroom dancers everywhere.
Unfortunately, it looks like Karen and Kevin's number may be up by default, as they faltered with a Broadway routine that didn't allow Karen to smolder onstage. If so, they'll certainly be missed ... all too often on this show, when it comes to ballroom and hip-hop dancers, three is a crowd.
The competition has really started now, but do you agree on who will end up packing it in this week? And are Legacy, Ashleigh and Kathryn surprising you as well? Share your opinion on video, or in the comments below.