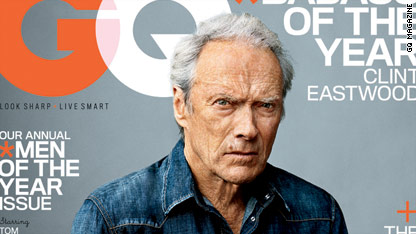 Clint Eastwood
GQ magazine will release its annual Men of the Year issue next week with five separate covers featuring five different types of noteworthy men.
President Obama made the list for the second year in a row as the "Leader of the Year."  The magazine also honors Tom Brady for "Comeback of the Year", Clint Eastwood  as "Badass of the Year",  "The Hangover" stars Ed Helms, Zach Galifianakis, and Bradley Cooper as "Funnymen of the Year", and Chris Pine of "Star Trek" for "Breakout of the Year".
Eastwood, 79, whose latest film "Invictus" tells the true story of South African president and civil rights leader Nelson Mandela, didn't mince words in the magazine discussing his negative feelings toward modern America.
"[The U.S. is] becoming more juvenile as a nation. The guys who won World War II and that whole generation have disappeared, and now we have a bunch of teenage twits," the Academy Award winning actor and director told the magazine. "The world needs this kind of story nowadays. It's just ... everybody's so screwed up. It seems like our country's in kind of a morbid mood, because of the recession or whatever."
New England Patriots quarterback Tom Brady broached a lighter subject in the magazine – his marriage to supermodel Gisele Bundchen, telling GQ that they planned their wedding in just over a week, after dating for nearly three years.
"We planned it in like ten days, and it was perfect," the Super Bowl champion said of his nuptials.
"We went back to the house and I barbecued aged New York strips. We had champagne, a cake, some ice cream. It was a great night. I think you always have this idea that weddings need to be 200 people and you invite everybody, and I'm all for it if people want to do that, but I think there was really something special about just having our parents there.''