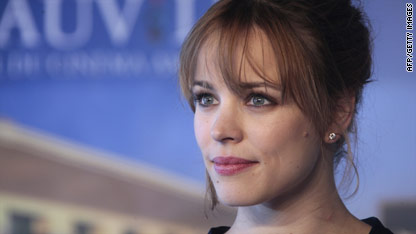 Rachel McAdams
Here's what's happening in the world of entertainment today:
Disney's "Captain Nemo," a new version of "20,000 Leagues Under the Sea," won't be going forward, Variety reports. McG was attached to direct and will now tackle other projects.
Rachel McAdams, shown above, has shot down rumors that she will play the character Black Cat in "Spider-Man 4," EW.com reports. The sequel is planned for a 2011 release.
Tony Danza is still teaching, and took his class on a tour of Washington, according to The Washington Post. His experiences will be part of an upcoming A&E reality show.
Anna Faris has been cast as Robin Williams' daughter in the romantic comedy, "Wedding Banned," The Hollywood Reporter says. Williams' character will try to keep his daughter from making the same mistakes in marriage that he did.
New music out today from 50 Cent, Justin Bieber, Leona Lewis, John Mayer, OneRepublic, Norah Jones and a collection of "Number Ones" from Janet Jackson.
And on DVD today: sci-fi smash "Star Trek," "Borat" follow-up "Bruno," Cameron Diaz in "My Sister's Keeper" and the 70th anniversary edition of "Gone with the Wind" on Blu-Ray.