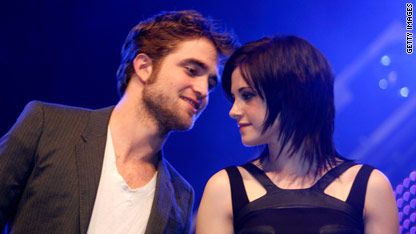 Robert Pattinson and Kristen Stewart
Here's what's happening in the world of entertainment today:
Fans are already camped out as the premiere of "New Moon" approaches. As for the rumors of onset romance between stars Robert Pattinson and Kristen Stewart, "Twilight" director Catherine Hardwicke tells Time, "...In terms of what Kristen told me directly, it didn't happen on the first movie. Nothing crossed the line while on the first film. I think it took a long time for Kristen to realize, O.K., I've got to give this a go and really try to be with this person."
"My Little Pony" may return to TV, The Hollywood Reporter says. The 1980s toys from the makers of "Transformers" and "G.I. Joe" are being looked at for a new show for the upcoming Discovery-Hasbro kids' channel.
Hollywood legends Lauren Bacall, Roger Corman and Gordon Willis were honored with honorary Oscars over the weekend. EW.com reports that this was the first time these Oscars were handed out at a separate ceremony. Kirk Douglas spoke in honor of Bacall, while directors Ron Howard, Quentin Tarantino, and Jonathan Demme paid tribute to B-movie king Corman.
Edward Woodward, best known for the movie "The Wicker Man" and the TV crime series "The Equalizer," died on Monday, according to The Hollywood Reporter. The stage veteran was 79.