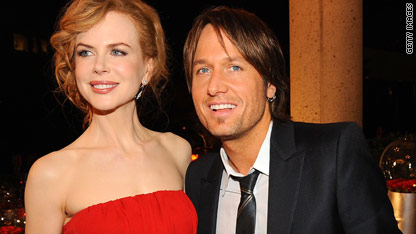 testing captions
Nicole Kidman says having a baby finally made her breasts a normal size. The typically svelte actress tells the December issue of Ladies Home Journal that after having daughter Sunday Rose with country crooner Keith Urban her historically flat chest got a natural boost.
"They're not very big, my boobs, so they just became normal size. I loved it! I felt very Woman," the Academy Award winning actress told the magazine. "When you've had a slightly androgynous body your whole life, having breasts is a nice feeling."
Kidman joked to Entertainment Tonight Canada that her newly ample bosom helped her to land her upcoming role in the movie musical "Nine" opposite Daniel Day Lewis.
"I had big boobs because I was breastfeeding," she told ET Canada. "I wouldn't get cast now."
Kidman, 42, has two adopted children with ex-husband Tom Cruise, but Sunday Rose is her first biological child. She told the magazine that she would like to get pregnant again someday.
The actress also admitted that at this stage in her life and her marriage she is happy scaling back her own work schedule in order to support her husband.
"There are certain limitations to my career because I'm based here [in Nashville]. And that's cool. Keith has enormous ambitions, which I support. His tours and albums are much bigger than what I'm doing right now," Kidman said.