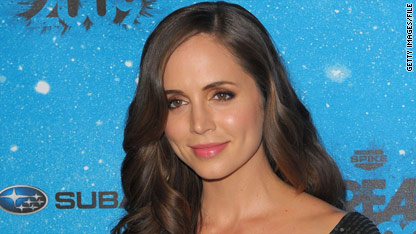 testing captions
Earlier this decade, the four major TV networks pretty much gave up on Saturday nights.  Outside of the Fox crime block and "48 Hours Mystery" on CBS, the only new network programming you see on Saturday nights is live coverage of sporting events.
Now it appears the networks are about to do the same to Friday nights as well.  CBS announced that it is cutting the episode count of Friday night staple "Numb3rs" from 22 to 16 this season - a likely sign that the show will be done after six seasons.  Fox has canceled cult fave "Dollhouse," which aired on Friday nights.  NBC opted not to air the second season of "Southland," which was scheduled to air on Fridays.  And ABC may or may not move "Ugly Betty" to another night after several poor showings on Fridays.
Pretty soon, the Friday night network TV landscape will be made up of cheaply-produced news magazine shows, low-budget "reality" fare, "re-purposing" (fancy term for reruns) of current network fare and first-run scripted shows on their last legs.  Sounds a lot like Saturday night, right?
Looking at the numbers, it's easy to understand why the networks appear to be pulling away from Friday nights. 
Last week, the top Friday night show on the major networks was the 20-year-old "Law and Order" with 8.4 million viewers.  That's almost four million below last week's 20th overall ranked show, "CSI: NY" on CBS.  And in the 18-49 target demo that advertisers crave, no network could reach a 2.0 average.  Compare that to this past Tuesday, where three of the four major networks reached at least a 3.0 average in the demos.
Can Friday night network TV be saved?  Anything is possible, but it is up to the networks to put competitive programming in these slots.  Give the viewers something they want to watch, and they will come in droves.  Disney Channel, for instance, has had a great deal of success premiering its big movie events on Friday nights - the 2007 premiere of "High School Musical 2" was watched by 17.2 million viewers.  Perhaps the networks should look at their cable counterparts for some guidance.
There was a time in the U.S. where Friday night was required network TV viewing.  CBS in the 1980s featured "Dallas" and "The Dukes of Hazzard," while NBC ruled the night with "Miami Vice" for a time.  ABC could always be counted on with successful family fare like "Full House" and "Mr. Belvedere," while "The X-Files" made Fox the network to watch on Friday nights not too long ago.
Do you think Friday night network television can be saved?  And if so, what will the networks need to do?